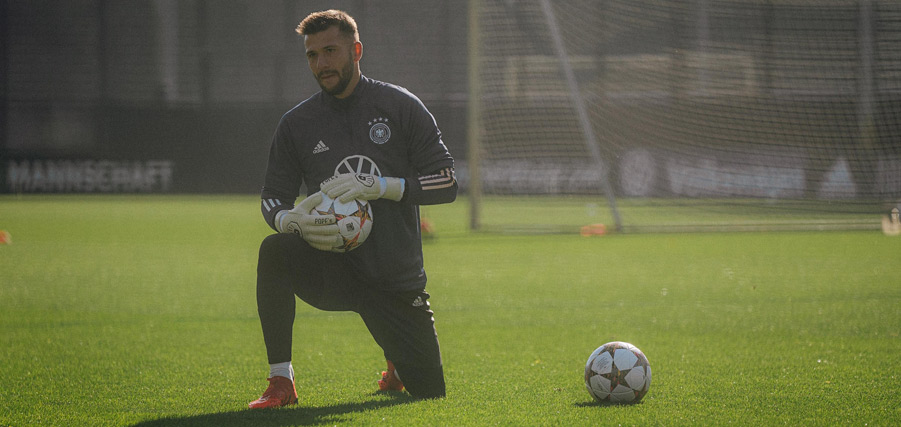 Daniel Heuer Fernandes trains with the DFB team
The 28-year-old HSV keeper fills in for Manuel Neuer and Marc-Andre ter Stegen in DFB training at the Volksparkstadion.
reat honour: HSV keeper Daniel Heuer Fernandes trained with the DFB team this morning (9 October) after yesterday's international match against Romania (2:1). Since the German national team had to do without regular goalkeeper Manuel Neuer (adductor problems) and Marc-Andre ter Stegen (regeneration) for today's session, the 28-year-old HSV keeper was requested by national coach Hans-Dieter Flick for today's training at Volkspark.
For Heuer Fernandes, who was born in Bochum and has Portuguese roots, it was his first contact with a DFB team. Between October 2012 and March 2015, he played a total of six international matches for the Portuguese U21 national team. This morning, he wore the DFB eagle on his chest for the first time in his sporting home of all places.
"Of course, that's a bit strange (grins), but when the request came, I didn't have to think twice," "Ferro" was happy about the unique opportunity. "Even though it was only a training session, it is of course something special to be in the circle of the national team. It was a lot of fun and I would like to thank the DFB and HSV."
"This is how we imagine the cooperation between the national team and the club." DFB goalkeeper coach Andreas Kronenberg
Andreas Kronenberg, goalkeeper coach of the national team, said after the session: "I am very grateful to my colleague Sven Höh from HSV and Daniel Heuer Fernandes for supporting us at such short notice. For a professional preparation for the match against North Macedonia on Monday, it is important that we have another goalkeeper available besides Bernd, who did not play yesterday. Thanks to the good exchange with the HSV officials, which also comes about through our U 21 goalkeeper coach Klaus Thomforde, we found a good solution quickly and without complications. This is how we imagine cooperation between the national team and the club."
---
Fotos: DFB/Philipp Reinhard