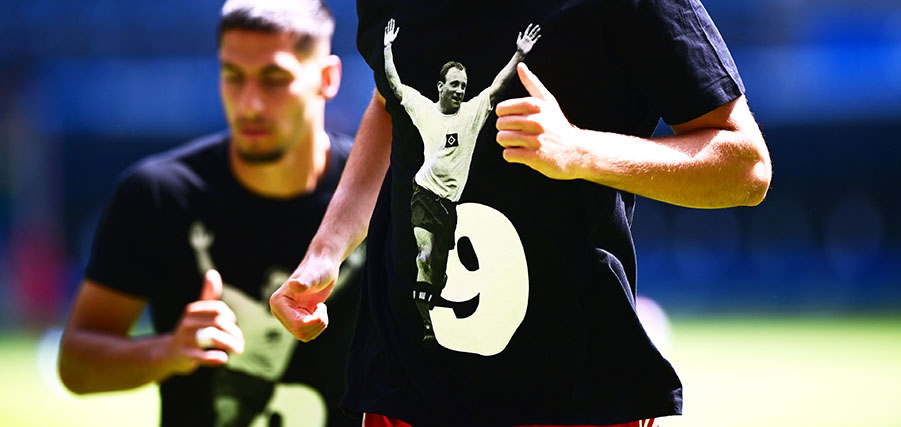 Great demand for special jerseys and warm-up shirts
During the home match against Hansa Rostock, the Rothosen wore special jerseys and shirts in honour of Uwe Seeler. The demand from HSV fans for them has been overwhelming, so the club is taking a stand on possible revenue campaigns.
During the home match against F.C. Hansa Rostock, Hamburger SV commemorated its club icon Uwe Seeler, who died on Thursday (21 July) at the age of 85, with numerous commemorative activities. Among other things,against Rostock the team wore a jersey with a special flock and a special warm-up shirt in honour of the HSV record goal scorer. Since then, the club has received an incredible amount of feedback through numerous channels on the extent to which an acquisition of these special commemorative fabrics is possible or will be made possible. In the course of this, Hamburger SV would like to point out that it refrains from generating a commercial action from these commemorative pieces. Rather, the club, which is itself in a mourning process, is interested in supporting the Seeler family in this process as best as possible and in granting "Us Uwe" the peace he deserves.
With a respectful distance to the funeral of the greatest HSV player of all time, the club will enter into an exchange with the Seeler family to see to what extent the production of special mementos, for example in the form of an "Us Uwe" collection, is feasible and, above all, desired. The aim of this would be to give HSV fans a memento of their club icon. Proceeds from such a campaign would also benefit the Uwe Seeler Foundation, as would the planned future auction of the special jerseys worn in the home match against Rostock.