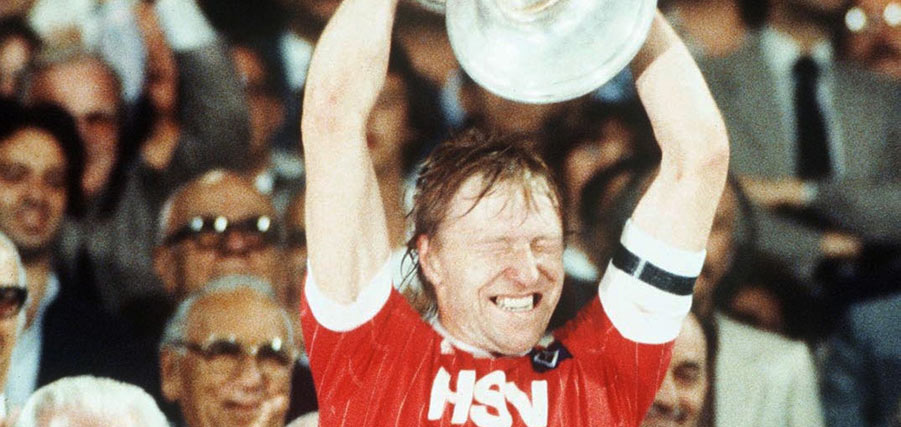 Happy 70th birthday, Horst Hrubesch!
One of the club's biggest icons celebrates a milestone birthday today. We take a look back at his remarkable career.
"Down-to-earth and honest" – two characteristics that often get mentioned when people are asked to describe Horst Hrubesch. That's exactly how our youth academy director came across too when he joined us for the HSV podcast "Pur der HSV" as part of his 70th birthday celebrations. The spotlight has never been something the man born in Westphalia but with a heart of a northerner has tried to seek out. He doesn't like to be the centre of attention, nor does he wish for any special treatment or adulation – it's simply about getting the job done. It's a no-nonsense approach that he has taken throughout his life, and his 70th birthday is no exception. "The only one who will be celebrating on my birthday is my mother. Otherwise, it's just your average day. I won't be making any fuss over it," he said in last week's podcast recording, having already turned down multiple other interview requests. "On my 70th, I'll be going to see my mother."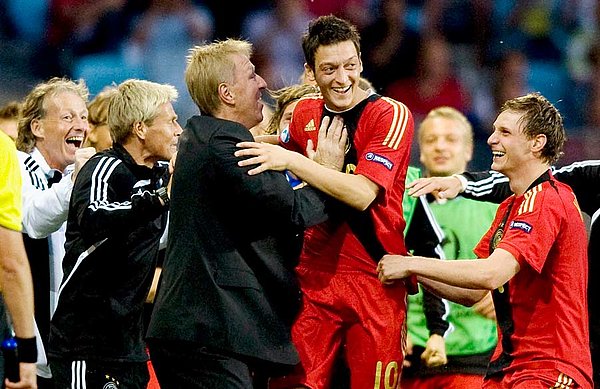 She can be extremely proud of her son, and all the success he's enjoyed. The "Kopfballungeheuer", a word often used to describe players who are beasts in the air, terrorised opponents both in the Bundesliga and on the international stage. Hrubesch also contributed to the most successful period in HSV's history, winning three Bundesliga titles (1979, 1982, 1983), not to mention the 1983 European Cup. Hrubesch was also crowned the league's top goalscorer in 1981/82 (27 goals), as well as also being a team player both on and off the pitch. He netted an incredible 132 goals in 211 competitive games for the Rothosen. Several of Hrubesch's goals were set up by teammate Manfred 'Manni' Kaltz's curling 'banana' crosses, leading to the catchphrase "Manni Banane, ich Kopf - Tor" ("Manni banana, my head - goal").
He fired the Germany national team to European Championship glory with two goals against Belgium in 1980, before finishing runner-up at the World Cup two years later. As a coach, German football has even more to be grateful to him for. With European Championship wins at U19 (2008) and U21 level (2009), as well as a Silver medal at the 2016 Olympics, he helped lay the foundations for a generation of German talent that ultimately led to 2014 World Cup success. "I always tried to teach the players something that actually works for them. If they understand, they can take it on board. If you come along with things they can't work with, you have a problem," Hrubesch explained during the podcast.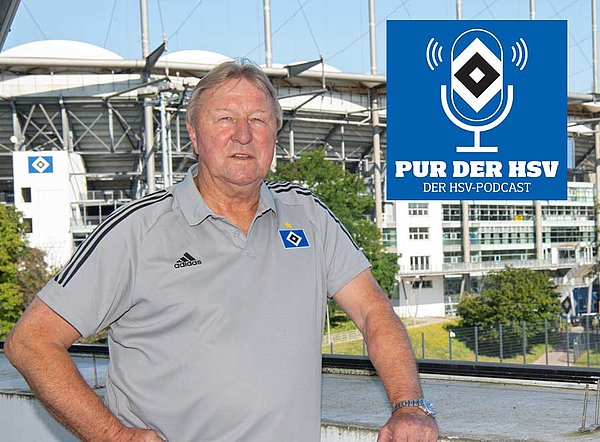 As academy director, Hrubesch wants to help nurture and develop talent at HSV, the club he returned to in the summer after 37 years. "Everything from now on is a bonus. Not many people get to 70. I have experienced a lot in my 70 years that I am very grateful for. We will see how much time is left," reflects Hrubesch. In Hamburg, and throughout Germany, we all hope that it will be a long time yet. On behalf of HSV, we wish Horst all the very best on his 70th birthday and thank him for everything his has given us so far. Thank you, Horst.