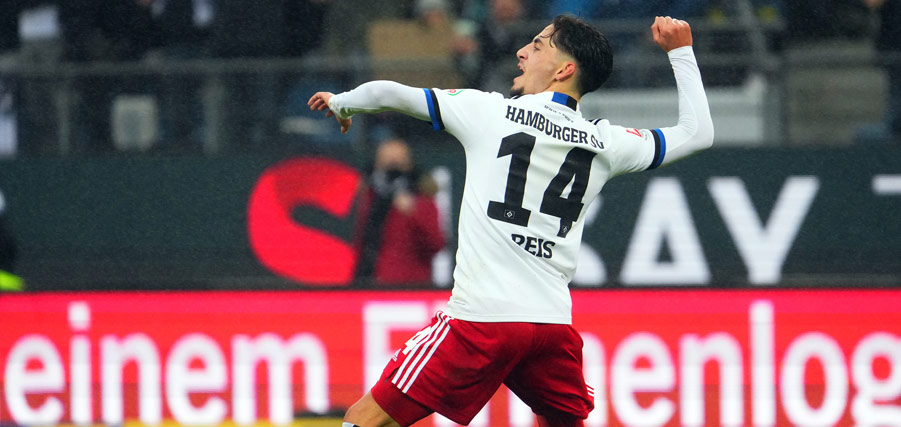 Post Match Thought's
13.12.21
"Have to stay focused and follow our plan".
The day after the 3-0 home win against F.C. Hansa Rostock, midfielder Ludovit Reis spoke about his stable performances, the table constellation and the last game of 2021.
Ludovit Reis announced himself as a "box-to-box player" in the summer after he was signed by HSV - and in addition to his two-man strength in front of his own penalty area, the Dutch eighth-man is now increasingly proving his qualities in front of the opponent's goal. In yesterday's 3-0 home win against F.C. Hansa Rostock, "Ludo" was also in the right place and scored the second goal of the day from close range. The U21 international has now scored a total of three goals for the season and has also recorded an assist. In a media round after the run-out today, the 21-year-old spoke about these qualities, the standings in the 2nd Bundesliga and the upcoming home match against FC Schalke 04 (18 December, kick-off: 8.30 pm).
Ludovit Reis spoke in detail about....
... his recent performances: I want to help the team with my qualities, that's why I often talk to the coaching team and work on my deficits. But the most important thing is always the three points, so it doesn't matter to me who scores the goals. I'm still young and can continue to improve.
... the standings: It's nice that we're in third place at the halfway point of the season. But we have to stay focused, work hard and follow our plan. Details are also important for that.
... the upcoming home game against Schalke 04: Of course they have a good team, but we have to look at ourselves. I don't want to say that we are the favourites, because we have to confirm that first. But if we put in our best performance, I'm very confident that we'll keep the three points in Hamburg.