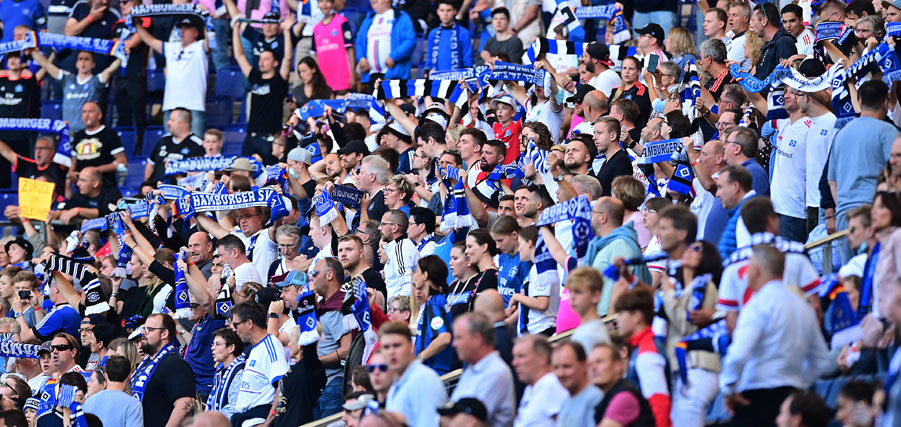 Home match against Düsseldorf operating under 2G
On 16th October at the home match against Fortuna, a bit of normality will return to the Volksparkstadion: standing room will open, alcohol may be consumed, distance and mask requirements will be lifted.
Against Fortuna Düsseldorf, Hamburger SV will play a home match under 2G conditions for the first time. For the matchday 10 game on 16 October at 8.30 pm, it will thus be possible to attend an HSV home game for the first time in 19 months, at which the standing areas in the North Stand will once again be open and no minimum distances will have to be observed, and at which, in addition, no mask requirement and no alcohol ban will apply. Advance sales to season ticket deposit holders begin this Friday, member advance sales on Tuesday and free advance sales on 6 October (Wednesday).
"For us, this is the next temporary step on the way back to normality and at the same time the opportunity to once again provide a stadium experience that all HSV and football fans long for after this long time," says HSV board member Frank Wettstein. For visitors to the Volksparkstadion, the 2G regulation means that recovered and vaccinated persons will be granted access to the stadium. Children and young people up to and including 17 years of age do not require any proof.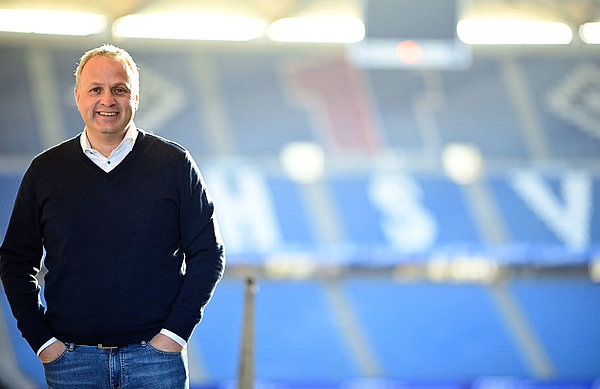 "We would also have liked to open up parts of the stadium within the 3G rule to allow all HSV fans to visit the stadium, but this is not allowed according to the official regulations and is therefore not feasible," said Wettstein in the HSV.de-Interview about the fact that the third G (tested) of the previous 3G rule will henceforth no longer apply, as is now the case at many other public events in Hamburg.
The change is supported by the fact that, according to statistical surveys of past HSV home games, only six per cent of spectators showed a negative Corona test as proof, while more than 93 per cent of visitors authorised themselves by showing proof of vaccination. Wettstein: "Nevertheless, we are aware that with the 2G regulation we unfortunately cannot allow all HSV fans to visit the stadium. Of course, this is not our desired state of affairs and is hopefully only necessary on a temporary basis. Nevertheless, we are very pleased that stadium attendance in this form again allows significantly more normality and emotionality."
Standing room again permitted, no mouth and nose protection, no distance regulations and the sale of alcoholic beverages - stadium attendance is thus clearly approaching normality again. We have summarised exactly what this means, what special features there are to be aware of at the moment and where you can get all the information on advance ticket sales in the FAQs below.
FAQ
Why did HSV decide on the 2G model?
After discussions with the municipal authorities, this form is the next step for HSV as well as for other clubs and public events. It is the next logical step, especially as more than 93% of visitors to the Volksparkstadion at past HSV home games were already vaccinated. We want to make it possible again for the persons of the further growing circle of the vaccinated to visit the stadium in an emotional and familiar way.
Why are there not some separate 3G blocks?
Because this is not possible due to specifications by the city of Hamburg and HSV, like all other organisers of public events, must adhere to these specifications.
I can't get vaccinated for health reasons, how do I get into the stadium?
Unfortunately, the regulations of the City of Hamburg do not allow any leeway here either. Unfortunately, we cannot offer any exemption to unvaccinated persons in this case either, but we assume that the 2G rule is also a temporary regulation.
What about the access rights of children?
Children and young people up to and including the age of 17 do not require proof of age to enter the stadium, although proof of age must be provided for young people by means of an identity document.
Are lap children allowed again, contrary to the 3G rule?
Yes, this means that lap children - children up to and including the age of six - may once again be taken into the stadium by at least one parent without being entitled to their own seat. Here, too, the child's age must be proven.
What is the advance ticket sales procedure for the HSV home match against Fortuna Düsseldorf?
Advance ticket sales for HSV's first 2G home game will be similar to the advance sales for the first four home games of this season. This means: Season ticket deposit holders will be given advance purchase rights from Friday, 1 October up to and including Monday, 4 October. On 5 and 6 October, HSV members can secure tickets. On 6 October, the tickets will finally go on sale to the general public. The entire advance sale will take place exclusively online, sales via the HSV hotline and in the HSV fan shops cannot be offered. More information on the advance ticket sales as well as the prices for the various categories will be available shortly at HSV.de/vorverkauf.
Will the tickets still be personalised despite 2G?
Yes, tickets will continue to be sold exclusively on a personalised basis due to the contact tracking requirements that are also relevant under 2G.
When will it be possible to buy season tickets again?
More information on how to deal with the issue of "season tickets" in compliance with the 2G regulation will be announced before the home match against Fortuna Düsseldorf (16 October).