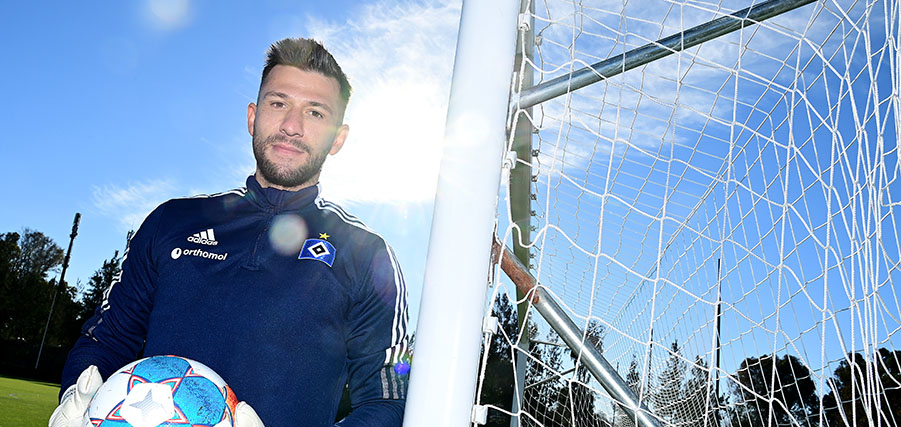 HSV and Heuer Fernandes extend contract
The 29-year-old keeper has signed a new two-year contract and will remain with the club until the summer of 2024.
Good news at the end of the winter training camp in Sotogrande: regular keeper Daniel Heuer Fernandes will continue to fly through the air with the diamond on his chest. This Friday (7 January), Hamburger SV and the 29-year-old keeper extended the contract, which expires this summer, by two more years until summer 2024.
"We are very happy that we have come to an agreement. Ferro is an important part of our squad and is taking on an important leadership role this season," said sporting director Michael Mutzel, pleased about the contract extension with the goalkeeper and praised his development: "Last season in particular, he didn't have it easy as number 2, but he always behaved super professionally. He works hard on himself and is still developing. In the first half of the season he showed really good performances and we expect him to confirm them further." Daniel Heuer Fernandes is also looking forward to two more years at HSV. "I have always said that I feel very comfortable here and receive huge appreciation from the club. I'm happy to continue playing here," explains Heuer Fernandes, who will be entering his fourth and fifth year at HSV with the new employment contract. "Maybe that's exactly what makes it so special. I have considered this step carefully. HSV is simply something special. A club you like to play for in the long term."
Performance, Will to Work, Team Play
For the Bochum-born goalkeeper, who has played 46 competitive games for the Reds to date, the contract extension is a well-deserved reward for his strong performances, constant willingness to work and exemplary team play. The German-Portuguese came to HSV from SV Darmstadt 98 in the summer of 2019 and experienced not only team but also individual highs and lows in the past two seasons, from which the 1.88 metre tall goalkeeper repeatedly worked his way out as a team player with hard work and good performances. This season, Heuer Fernandes once again advanced to become the undisputed regular keeper, whose development under head coach Tim Walter and goalkeeping coach Sven Höh has received another boost. In the first eleven league matches and in the two cup matches, "Ferro" shone as a safe backstop between the goalposts before a capsule injury in his knee slowed him down. Now the number 1 of the Red Shorts is fit again, celebrated his comeback in the test match against KSC this afternoon and is highly motivated for the second half of the season.