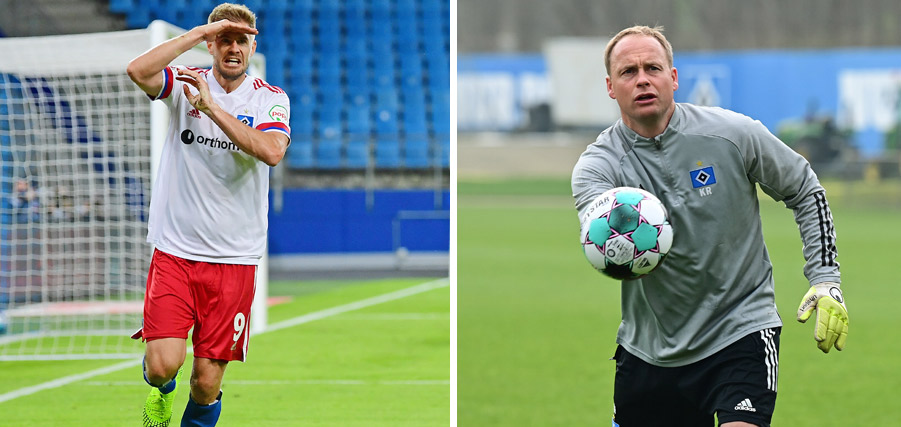 HSV bid farewell to top scorer and goalkeeper coach: Thank you Simon and Kai!
Following the final game of the season against Eintracht Braunschweig, HSV bid farewell to striker Simon Terodde and goalkeeper coach Kai Rabe.
A goal and a clean sheet to finish the season! Simon Terodde and Kai Rabe finished the 2020/21 season on a positive note as HSV comfortably defeated Eintracht Braunschweig 4-0 at home. The 33-year-old striker netted the fourth goal in his final match for the Rothosen, while goalkeeper coach Rabe watched his protégé Sven Ulreich keep a clean sheet at the other end of the pitch. After the match against the side from Lower Saxony, both Terodde and Rabe were bid farewell by the rest of the team.
The goal on the final day of the season took Terodde to 24 goals and six assists in 34 appearances this season. The prolific 2. Bundesliga striker, who has scored a total of 142 goals in 253 matches, arrived in Hamburg on a free transfer from 1. FC Köln last summer. The 33-year-old has contributed far more than just goals, however, and was a respected team player. After his contract expires on 30th June 2021, Terodde will join relegated FC Schalke 04 and return to play close to his home in Bochholt.
In addition to Terodde, the two years that goalkeeper coach Rabe has spent in Hamburg has also been honoured by the team. The 40-year-old joined HSV from Karlsruher SC in the summer of 2019, and his contract also expires at the end of next month.
HSV would like to thank Simon Terodde and Kai Rabe for all of their commitment during their time at the club and wish them all the best for their futures!