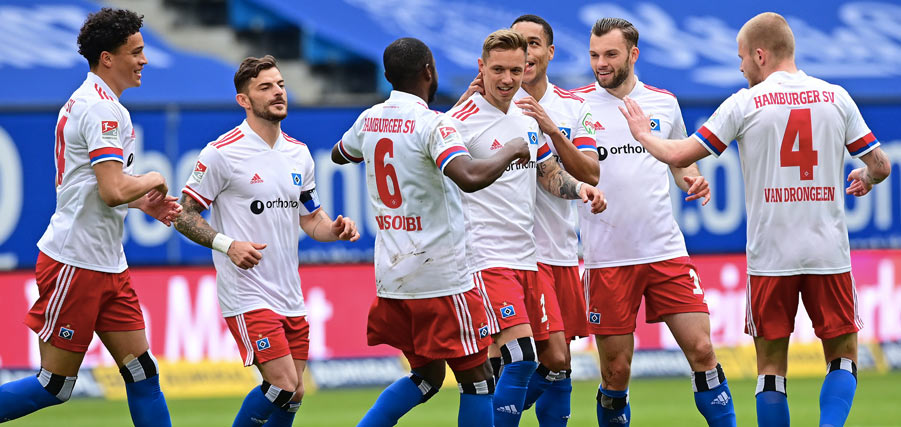 Post Match Report
23.05.21
HSV end the season with a 4-0 win at home
HSV closed out the 2020/21 season with a 4-0 win at home against Eintracht Braunschweig. The Rothosen ended the campaign in fourth place.
Hamburger SV won 4-0 against Eintracht Braunschweig in their final match of the 2020/21 season. Braunschweig, who needed a win in order to have any hope of avoiding relegation, proved no match for HSV early on. Kittel scored a brace (7', 21') before Meißner added a third (45') just before the break. Simon Terodde then scored to make it 4-0 (76') in what was his final match for HSV, who ended the season in fourth.
An early lead...
HSV head coach Horst Hrubesch made several changes to his squad, which had one of the youngest average ages of any HSV team this season. Hrubesch's men started strong, with Sonny Kittel setting the tone. The 28-year-old looked hungry right from the start, netting a brace for the hosts (7', 21') and putting them on course for victory. Braunschweig attempted to turn things around, but were unable to break through the HSV defence. The hosts, meanwhile, proved clinical up front. Meißner was able to add a third just before the break, to put HSV comfortably in front.
...and a deserved win at home
After the change of ends, HSV refused to let the game slip from their grasp. Braunschweig, knowing that they could no longer stave off relegation, bravely carried on playing but were hardly able to carve out a chance. HSV, on the other hand, were effective on the ball, especially after Terodde was brought on, and found plenty more opportunities. Our top goalscorer tucked one away to make it 4-0, a scoreline which held until the final whistle. Terodde was a little unlucky with his finishing, hitting the post among other misses, but it was a deserved and convincing win for Hamburg nevertheless. HSV finish the season in fourth place for the third consecutive season.
---
Match overview:
Hamburger SV: Ulreich - Gyamerah (46' Narey), van Drongelen, David (78' Leistner), Leibold - Jatta, Kinsombi (74' Kwarteng), Heyer, Kittel (64' Heil) - Meißner, Wintzheimer (46' Terodde)
Eintracht Braunschweig: Fejzić - Wiebe (86' Kleeberg), Behrendt, Diakhite, May (66' Ziegele) - Nikolaou, Ben Balla, Kaufmann (66' Kupusovic), Kroos (77' Kammerbauer), Bär - Otto
Goals: 1-0 Kittel (7'), 2-0 Kittel (21'), 3-0 Meißner (45'+2), 4-0 Terodde (76')
Spectators: 250
Referee: Patrick Alt (Illingen)
Yellow cards: - / -
Red cards: - / -