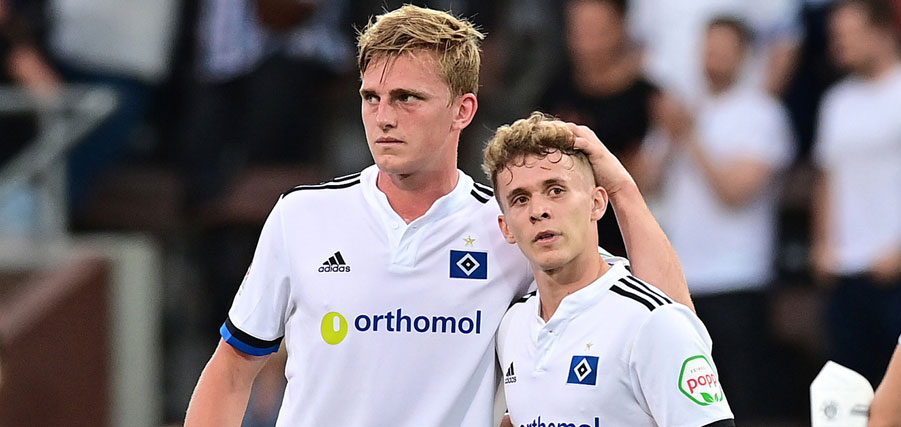 HSV talents on international duty
Five first team players are travelling to their country's U21 national teams. Four players from the U21 team are also on international duty.

After the 1-1 draw at FC Erzgebirge Aue, the HSV professionals have been given time to recharge their batteries this weekend. On Monday (4.10.), performance tests are on the agenda in the UKE, before the training week begins and the test match against VfL Wolfsburg follows on Wednesday (6.10., from 1 pm live on HSVtv). Coach Tim Walter, however, will have to do without some of his greatest talents. But there is a good reason for that: With Tommy Doyle (19), Ludovit Reis (21), Mario Vuskovic (19), Anssi Suhonen (20) and Mikkel Kaufmann (20), five HSV professionals are in the squads of their country's U21 national teams.
Aue point-winner Doyle travels to the U21 of the "Three Lions", who play Slovenia (6 October in Celje) and Andorra (11 October in Andorra) in the European Championship qualifiers. Ludovit Reis will face Switzerland (8 October in Lausanne) and Wales (12 October in Nijmegen) with the "Jong Oranje" selection. Vuskovic and Croatia's U21s face Norway (8 October in Varazdim) and Azerbaijan (12 October in Sumqayit). Kaufmann plays with the Danish U21s against Scotland (7 October in Edinburgh) and against Belgium (12 October in Leuven).
Anssi Suhonen is also the last member of the professional squad to play for the national team. The midfielder had seen the red card in his last international appearance for the Finnish U21 team. The penalty was initially set at two matches by UEFA, but has now been reduced to one, giving him the opportunity to travel to the national team as well. His selection will face Azerbaijan on 8 October and Austria on 12 October. He will be supported by another HSV talent: Juho Kilo (19) from the U21 of the Rothosen was nominated for the U21 national team for the first time by the Finnish association. This is a great recognition of his achievements and his development at HSV. Valon Zumberi (18) and Gentrit Limani (21) also travel from the second team to the Kosovo U21 national team and Bent Andresen (18) to the German U19 selection.