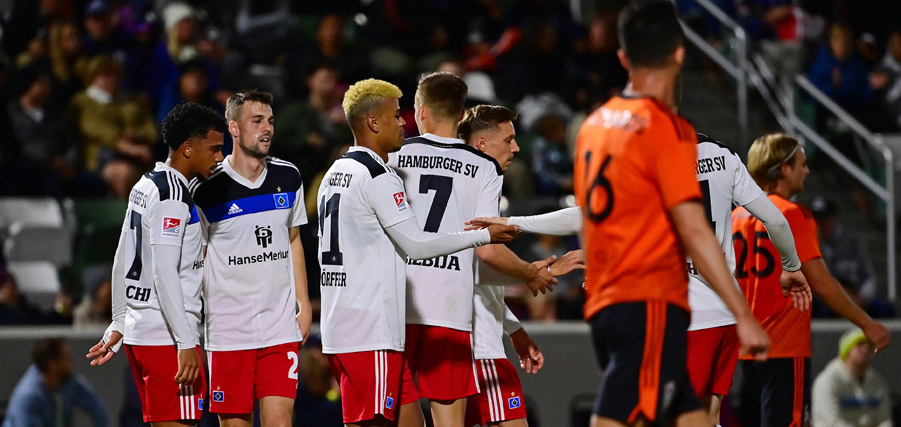 HSV wins friendly against OSCS 1-0
Ransford-Yeboah Königsdörffer scored the goal against the USL Championship side.
The HSV took in their first freindly of the USA Tour on Tuesday (15/11) against Orange County Soccer Club in Irvine, California. With a 1-0 with thanks to a goal from Ransford-Yeboah Königsdörffer, the assist coming from a Sonny Kittel cross.
Two days after the arrival in California stood the sporting highlight of the USA Tour Programme. Head Coach Tim Walter had already said before the game against OSCS, that he wasnt to win every game. And so the Head Coach chose many first team players in the squad for the match. Sebastian Schonlau, Jonas David, Miro Muheim, Sonny Kittel, Ransford-Yeboah Königsdörrfer and Jonas Meffert all continued in the starting XI that started against Sandhausen at the weekend. And then began the possession based game. The game started brightly and it didn't take long for Filip Bilbija and Miro Muheim to get our first efforts on goal and chances in the game.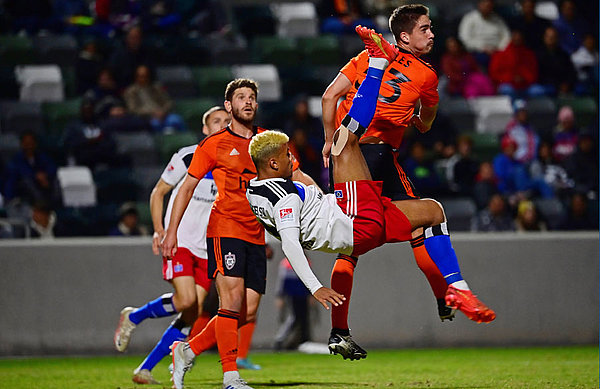 Königsdörffer with the header
The visitors who have just finished their USL Championship league season came with plenty early chances: Milan Iloski tried two long distance efferts just after the half an hour mark. The final moments of the first half is then where most of the action came from. Muheim also tried his luck with long range effor that smacked on the post and just a moment later game the goal from Königsdörffer. A cross in from Kittel met the head of Ransford heading the bottom corner that left the OSCS Keeper Patrick Rakovsky with no chance of saving.
Into the second half and a line change of Tim Leibold, Valon Zumberi, Jean-Luc Dompé and Ludovit Reis for the final 45 minutes. Later, youngsters Bent Andresen and Tom Sanne would also join. The hosts also substitued many players including two departing players, Rakovsky and Mikko Kuningas. Though the game then didn't change too much. The pressed the opponent and ball and were often on the run while OSCS stayed always alert on the counter. Xavier Amaechi had the biggest chance of the second half from a tight angle. And so it stayed with the 1-0 Victory
The Captain Sebastian Schonlau's positive analysis, "It was a lot of fun. In the stadium a good atmopshere was created. We could dictacte how we wanted to play our game. That's important for us. Es hat großen Spaß gemacht. Im Stadion herrschte eine gute Stimmung. Wir konnten das Spiel für uns entscheiden. Das ist das Wichtigste. I think it was a successful game for everyone involved."
Match Summary:
OCSC: Rakovsky (50.Shutler) - Villanueva (79.Trujillo), Miles (69.Mastrontonio), Richards (83.Elliott), Kuningas (45.Casiple) - Jamison (67.Ruiz), Powers (83.Orosco), B. Iloski (79.Almaliki), Scott (79.Gomez) - M. Iloski (83.Hwang), Osundina (46.Trialist)
Hamburger SV: Raab - Mickelbrencis (68.Andresen), David, Schonlau (46.Zumberi), Muheim (46.Leibold) - Meffert (46.Reis), Bilbija, Kittel - Heil (46.Dompe), Königsdörffer, Amaechi (68.Sanne)
Goals: 0:1 Königsdörffer (41.)
Attendance: 4.168
Referee: Samantha Martinez (California, USA)