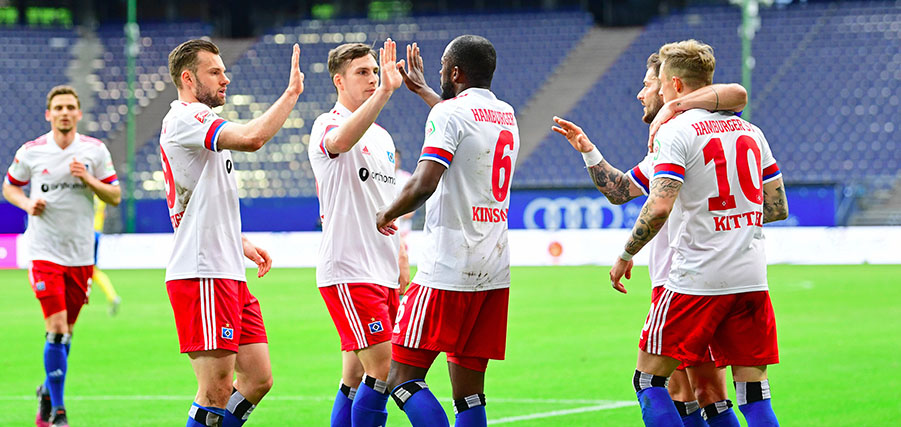 Post match reaction
23.05.21
"It was our duty to play well one last time"
Hamburger SV ended the 2020/21 season with a 4-0 win against Eintracht Braunschweig. Hear from the team on today's match, as well as the end of the season.
"The sides that are battling relegation still have a lot to play for, which is why it will be important that we end the season properly," was what HSV head coach Horst Hrubesch had said ahead of the 34th and final matchday of the 2020/21 Bundesliga 2 season. His side won 4-0 at home against Eintracht Braunschweig on Sunday afternoon (23rd May) thanks to goals from Sonny Kittel (7', 21'), Robin Meißner (45') and Simon Terodde (76'). It was a deserved win for the Rothosen, against a Braunschweig side that needed a win in order to avoid relegation to the third tier. Here is all the post-match reaction.
Simon Terodde: We knew that today's result wouldn't change anything in the table from our perspective, but we still wanted to end with a win at home. Looking back on the season as a whole, it's disappointing. I came here with the aim of helping the club and to win promotion with HSV. In the end, we have to congratulate VfL Bochum and Greuther Fürth on their promotions. I hope that someday, I'll be able to see the positives when looking back on my time at HSV. I was welcomed right from the start. Things looked good up until the winter break, which is why it's even more disappointing that we didn't achieve it in the end. I wish HSV all the best. I was proud to play for this club.
Jonas Boldt: It was our duty to play well one last time, especially for our fans. Unfortunately today didn't count for anything, as we dropped far too many points this season. We definitely had expected more from ourselves. Simon Terodde will definitely be leaving the club, while Bobby Wood left during the season already. We will see what else happens over the coming days, when we've announced our new head coach. We will then listen to what the players have to say and make it clear to them what our expectations are. A few good games during the course of the season just isn't enough. You have to have the desire to be successful.
Horst Hrubesch: The loss in Osnabrück is still bothering me. I knew that these last three games wouldn't be easy, but it wasn't impossible. Today, we showed how we should have played. It's only when you give it everything that you have the chance to win games. We have a strong side, and had a bit of a lead at the top in February. The question then is, what do you need to invest? You need to do more in order to improve and we failed to do that. We all need to ask ourselves questions. How and why did this happen? This team had the potential to compete at the top. I hope that we start over again next season and see it through. That's the trick you have to master in football.