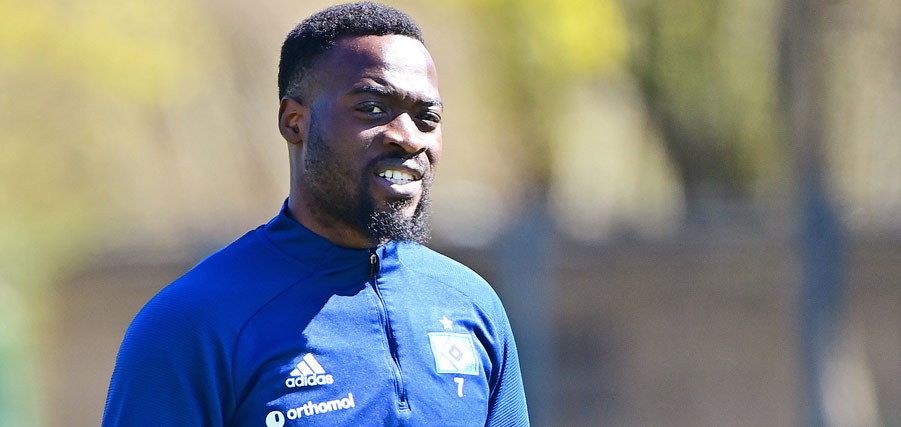 Khaled Narey to leave HSV
The 26-year-old midfielder was released from his contract on Friday (18th June) and will look for a new opportunity elsewhere.
HSV and Khaled Narey will go their separate ways after both sides agreed to release the 26-year-old midfielder from his contract, which was set to run until 30th June 2022. "Khaled is a great person. He has always acted professionally and given his best for both the club and the team. He had pictured his three years at HSV differently. We have arrived at the mutual decision that it would be best for him to find a new opportunity for himself. We wish him all the best for the future and thank him for all his efforts at HSV," said sporting director Michael Mutzel.
Despite leaving the club, Narey still wishes them all the best for the new season. "Although the last years haven't always been easy, I'm still grateful for the experience and would like to thank the employees and fans of the club for their support during our time together. I wish HSV all the best for the future," he said.
Narey joined HSV in 2018 from SpVgg Greuther Fürth. He scored seven goals and provided four assists in 32 games in his debut season for the Rothosen. Narey was sidelined for several weeks with a knee injury during his second season at the club, during which he made just 16 appearances (1 goal). In 2020/21, Narey played 29 games for HSV (13 starts) and scored three goals. In order to get more playing time, he will now look for a new opportunity elsewhere. HSV would like to say thank you to Khaled for the last three years and wish him all the best for the future.