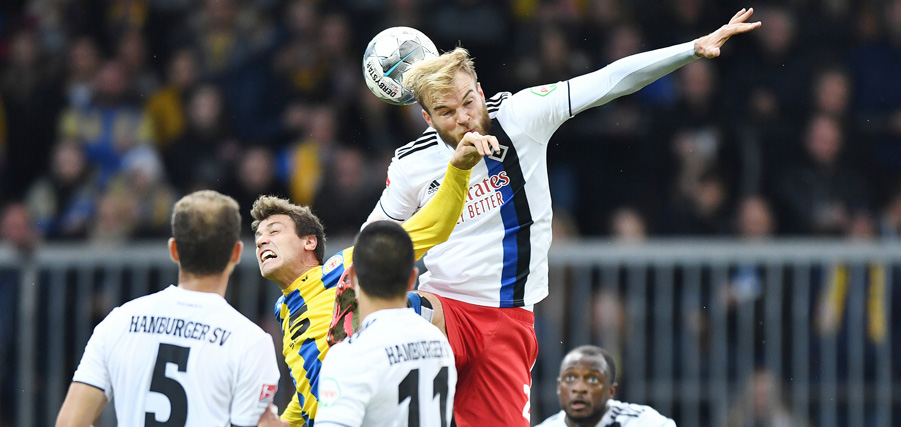 2-2 friendly draw in Braunschweig
HSV used the international break for a friendly against third division side Eintracht Braunschweig, which ended in a 2-2 draw. Bobby Wood and Jeremy Dudziak were on the scoresheet for the Rothosen.
HSV emerged from their friendly fixture with Eintracht Braunschweig on Thursday (10th October) with a 2-2 draw. In front of 4,941 spectators at the Eintracht Stadion, the hosts went in front through Nick Proschwitz, before Bobby Wood hit back with an immediate reply in the 12th minute. The home side managed to put their noses in front yet again in the 77th minute with Leandro Putaro's goal, only to be pegged back in the last minute of regulation time with Jeremy Dudziak's second goal in as many games.
The aim of the friendly was to retain the momentum gained from the three-game unbeaten run in the league despite the international break, as well as giving a number of back-up players and youngsters some much-needed game time. Eintracht Braunschweig showed their ambitions from the outset, making only one change from the starting line-up that has started the 3. Liga season so positively, currently sitting in third position in the table.
The confidence running through Christian Flüthmann's side was clear to see from the first whistle, pressing the visitors high up the pitch and going in front after ten minutes. Goden won the ball on the halfway line and drove all the way to the Hamburg box before laying across to ex-HSV man Proschwitz, who merely had to pass into the empty net. The first goal of the game seemed to waken the sleepy Rothosen, as they equalised only two minutes later. Timo Letschert intercepted a Braunschweig counter-attack, exchanging passes with Jairo Samperio before laying into the path of Bobby Wood, who sorted his feet out quickly to lift the ball over the advancing Engelhardt from the edge of the box. Similarly to the previous friendly against Wolfsburg, both sides wanted to display their attacking prowess, playing some attractive possession football, and creating a number of chances, the best of which fell to Bakery Jatta for the Rothosen and Martin Kobylanski for the hosts.
As the second half began, the second division side began to control proceedings, dominating possession and pressing the Yellow and Blues further and further into their own half. The left-hand side brought about the greatest number of chances, with Bakery Jatta and American youngster Travian Sousa linking up well and putting a number of dangerous crosses into Bangsow's six-yard area. With the final killer instinct meaning that the score remained at 1-1, Flüthmann's side took the lead once again with 13 minutes to go, as Leandro Putaro unleashed from 30 yards out, giving substitute Julian Pollersbeck no chance. Rather than withdraw into their shell, the renewed setback saw the Rothosen create a flurry of chances, with 18-year-old Anssi Suhonen and Jatta firing over when in good positions. With one minute of the 90 remaining, Martin Harnik laid the ball into the path of Jeremy Dudziak, who hammered past Bangsow into the far corner to earn Hamburg a well-deserved draw. "Against a very motivated opponent, I saw a number of very positive things today," was HSV manager Hecking's assessment after the final whistle. "You always have to be critical of what you see, but you also can't forget about the circumstances in which you play in. All in all, the friendly was really good for us."
Eintracht Braunschweig: Engelhardt (46' Bangsow) - Kessel (46' Nkansah), Becker, Ziegele - Goden (63' Y. Otto), Pfitzner (63' Schlüter), Kammerbauer (46' Bürger), Kijewski (63' Bär) - Kobylanski (46' Wiebe) - Proschwitz (63' Ademi), Feigenspan (46' Putaro)
Hamburger SV: Mickel (46' Pollersbeck) - Narey, Letschert, Ewerton, Sousa - Kinsombi (46' Fabisch) - Samperio, Jatta, Amaechi (77' Suhonen), Kittel (62' Dudziak) - Wood (71' Harnik)
Goals: 1-0 Proschwitz (10'), 1-1 Wood (12'), 2-1 Putaro (77'), 2-2 Dudziak (89')