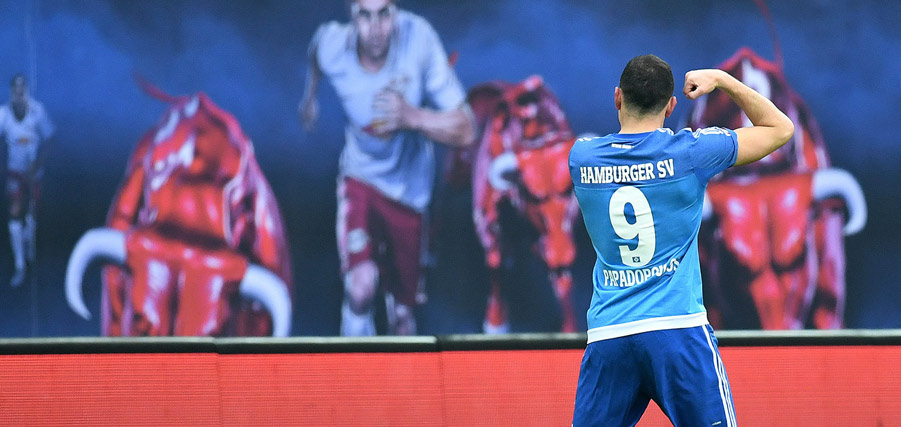 Post match report
12.02.17
After an amazing week: "Not out of the woods yet!"
HSV produced a sterling performance beating high-flyers RB Leipzig 3-0 at the sold out RB Arena on Saturday afternoon. Yes, the victory was crucial but must not be over valued.
Two brilliant headers by Kyriakos Papadopoulos (18.) and Walace (24.), followed by a simple tap in from Aaron Hunt following a perfectly executed counter attack in injury time saw the Rothosen sensationally win 3-0 away to RB Leipzig on matchday 20. All three goals were set up by Nicolai Müller. The win ended the unbeaten home run of Leipzig and had the whole of German football talking. The victory was welcome but unexpected. The team were perfectly prepared for the game and scored twice within the opening half an hour. After the game was over, both coaches agreed that HSV's win was fully deserved.
"Game could have gone either way"
"We were determined in our build up play and didn't fall into the pressing traps they tried to set us. That was the key to success. This performance certainly deserves praise", said Rothosen coach Markus Gisdol after the game at the post-match press conference. His Leipzig counterpart Ralph Hasenhüttel agreed as he said: "We lacked precision in most situations and rarely troubled HSV which is why we deserved to lose the game."
Although the superb result was reason enough to celebrate the moment, it must not be overrated in the general scheme of things because as Rothosen sport boss Jens Todt pointed out after full time: "The game could have gone either way, and had Leipzig scored at the right time things would have been much tighter." He was referring to the good chanced missed on 35 minutes by Yussuf Poulsen, who saw his effort strike the outside of a post. Danger for HSV loomed as early as the 4th minute as Timo Werner blasted a pinpoint pass by Halsterberg over the bar from only six metres out. Hasenhüttel observed: "Taking the lead would have settled us down. As it was missing chances played into their hands.
What if is not something which wins points and we must not forget that the same thing which happened to Leipzig on Saturday could also happen to HSV in coming games. Gisdol knows that the unlucky loss against Ingolstadt was not a bad performance. Todt said after victory in Leipzig: "Of course winning is a source of relief and a huge help integrating new signings. But now we face another challenge next week which we must prepare for." Rene Adler agrees with his sport boss: "We can only escape our current situation by performing like tonight in future games."
HSV have taken an impressive 15 points from their last eight games – second only to Bayern Munich during the same time period. Hamburg have left the bottom three places behind them for the first time since matchday three. Gisdol warned: "I say watch out! We are taking steps and are by no means out of the woods yet." On Tuesday !4.02) preparation beginsfor HSV's next hurdle as a matchday 21 home game against Freiburg appears on the horizon. The Rothosen are edging closer to their goal of Bundesliga retention, but must not get carried away by a perfect week in February which blew everyone away.