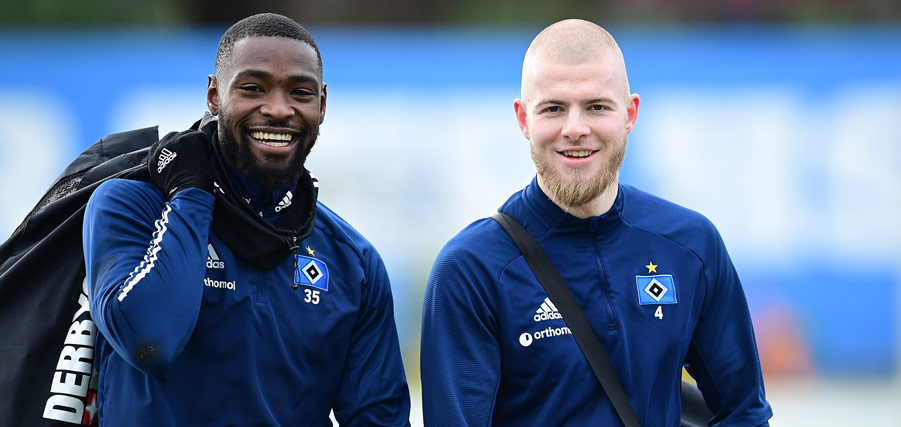 Anticipation before Osnabrück
Jan Gyamerah returns to the pitch for the first time after his injury, whilst there are also positive signs for Rick van Drongelen and Amadou Onana.
The visit of VfL Osnabrück to the Volksparkstadion on Monday night (kick-off 8:30pm CET) is a meeting with a familiar foe for a HSV trio, utility man Moritz Heyer as well as manager and his assistant Daniel Thioune and Merlin Polzin both moving from the Purple and Whites to Hamburg in the summer. "I'm looking forward to seeing everyone", the head coach said on Wednesday. Most important though, is that the three points stay in Hamburg: "After that, I can really enjoy myself," added Thioune.
To prepare properly for the upcoming opponent, the 46-year-old arranged a double training session for his charges on Wednesday (13th January). After a number of setbacks in the opening week of January, the coaching staff received positive signals from three players, who are nearing a comeback. Amadou Onana, suffering from problems with his adductor muscles, and Jan Gyamerah, recovering from torn ligaments in his ankles, were able to return to the training pitch for the first time since their respective injuries on Wednesday. Slow and steady wins the race, and Gyamerah will have to be patient before being able to play a game, but it was clear to see the joy that he had being back out on the grass with rehabilitation coach Sebastian Capel.
Things are looking more promising for Amadou Onana, who will hopefully be able to fully return to training with the rest of the team at the end of the week. "If he's healthy, then he definitely could be an option," Thioune relayed to the media after training, the Belgian a possibility especially due to the continued absence of Klaus Gjasula. "I'll keep my options open until Monday. It's always dependent on what the others offer to me in training," the head coach explained.
Rick van Drongelen also continues to make progress, but similarly to defensive colleague Gyamerah, will have to be patient before a competitive game is possible. Yet the progress is clear to see and the Dutchman was able to take part in a lot of training with the rest of the team on Wednesday. "We've involved Rick in a few exercises where he has to work without the ball as well. Day-by-day we're going to introduce him into more and more. Rick is someone who would rather join in yesterday than today, but we have to be careful. His muscles have to adapt to the stress they are under. But I'm very happy that he's back on the pitch," summarised Thioune.
On Thursday, the boss will hopefully be able to welcome another player back onto the training pitch. Xavier Amaechi has returned from England and provided a first negative corona test, and once the second negative test has been provided, he will be allowed to leave quarantine and train with his teammates again. "During quarantine he couldn't do everything, so we'll be careful with him as well. As soon as he's fully back in business, he'll train with the rest of the squad again," Thioune reported.
Matchday 16 is rounded off by the visit of Osnabrück to the Volksparkstadion on Monday night, meaning the coaching staff have time on their side to find the right combination for defeating their former colleagues.