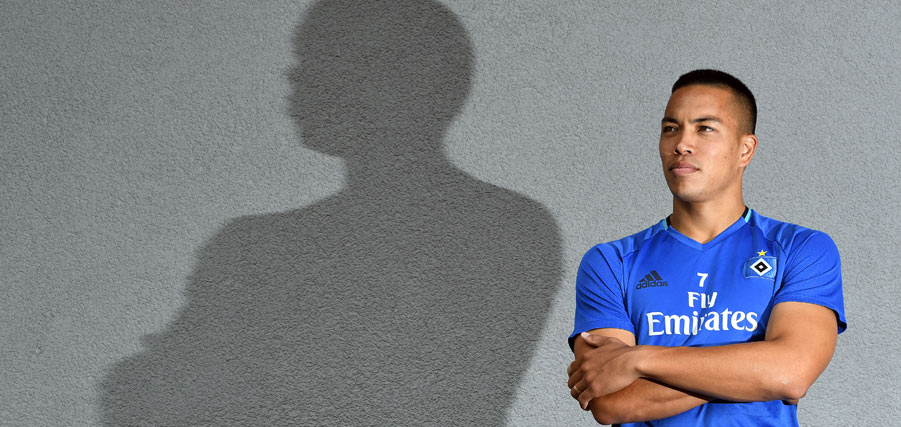 "Competition for places is great"
In an interview with HSV.de, Bobby Wood discussed his contract extension, his eventful summer and his goals for the coming season.
Bobby Wood has had an eventful summer to say the least. After the annual Bundesliga survival battle the USA striker played for his country and even found time to marry his long time girlfriend Ditte. The 24 year old also extended his contract with HSV until 2021. He told HSV.de the reasons for doing so, how satisfied he is following his first season in the German top flight and what his expectations are for the impending new season in an exclusive interview at the training camp in Austria this week.
Bobby, you hail from beautiful Hawaii. Does the Austrian mountains interest you too?
Wood (laughs): A bit more sun and heat like in Hawaii would be nice. It has been pretty cold here up to now. But joking apart: The conditions here are very good and the nature here is super. Yesterday we visited a hut with a view into the valley which was impressive.
You haven't been with the team for long due to international duty. Have you managed to catch up yet?
Wood: I came back a bit later but I wasn't out for long, so you don't lose much. I'm happy, things are going well and it is fun to be back with the lads.
You agreed terms on a contract extension with the club during the current summer break. It seemed to take a while. Did the decision come quickly from the beginning for you?
Wood: I really wanted to stay here. I feel at home in Hamburg and at HSV. I feel the trust the coaching staff have in me. We moved closer together as a team last season and it is a lot of fun. All those were reasons for my decision and luckily it all worked out.
Your private life has also been busy. You married your long term girlfriend Ditte.
Wood: I prefer to keep my private life apart from sport but yes it was a special moment. We have been together for years and I always wanted to marry her. I am very happy that we managed to do so this summer.
Extra motivation for you?
Wood: Maybe. Now I can solely focus on football (laughs)
Looking back at your first season in the Bundesliga how satisfied are you?
Wood: To be honest I would have liked more stability, personally and with the team, but the Bundesliga is performance wise very tight. It is not easy to always play successfully. Luckily we made it in the end. The whole team moved closer together.
Will your second season in the top flight be easier for you because you now have experience or tougher because people expect more from you?
Wood: I hope easier. I think I know the league a little better now and can be of more use to the team. Last season brought many experiences for me. There were highs and lows and it was not easy, but through that you improve. I can't wait for the new season because we all start from scratch again. It is the start of a new challenge.
What are the challenges facing HSV?
Wood: We had success at the end of last season by fighting hard together. We have to further develop that aspect. It is important to always focus solely on the next game. We want to take small forward steps, focus only on ourselves and gain more stability. That is most important.
In Andre Hahn and the return of Sven Schipplock you have two new strikers to contend with. What is the competition for places in the team like at HSV?
Wood: To be honest: I love having competition. A larger squad brings increased ambition with it, at least with me. That drives me on which is why I see it as positive.
Sounds energetic. Off the pitch you seem to be relaxed and a little quiet. Unlike on the pitch.
Wood: That's true. I am different on the pitch. You have to play with emotion, which is the reason for the two sides of me – on and off the pitch.
Do you have a personal goal for the new season?
Wood: Hopefully to help the team by scoring more goals.
We wish you luck on that front.