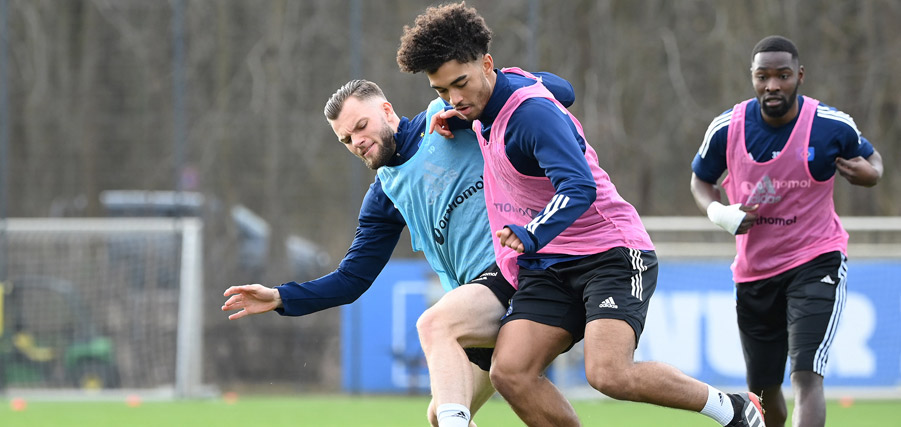 Derby fever in the air with double shift on Thursday
On Thursday the HSV squad completed two training sessions, cranking up the intensity before the upcoming derby against St. Pauli.
"The derby comes at the right time," a determined Simon Terodde explained in an interview yesterday with HSV.de. The Rothosen's striker, just like his teammates and all associated with HSV, is in derby fever and looking forward to the prestige-filled match-up on Monday evening (kick-off 8:30pm CET). To ensure that the scoreline is in favour of the blue, white and black side of Hamburg come the full-time whistle, the Rothosen enjoyed a double session at the Volkspark on Thursday, working with intensity on technical, tactical and conditioning elements. Whilst the morning session contained smaller and larger-sided games, various types of finishing were tested after lunch.
The second half of the day saw nine outfield players outside, the other members of the squad working on their fitness in the gym, whilst also preparing for the opposition with individual analysis sessions. Klaus Gjasula (knee) and Toni Leistner (hamstring) were also working individually towards their own comebacks with rehab coach Daniel Müssig. The HSV coaching staff shall have to come up with an inventive plan for the defence and midfield again on Monday night with the two experienced pros missing and Amadou Onana suspended after his red card against Würzburg. One positive is the return of Stephan Ambrosius after sitting out on Sunday in Lower Franconia. Simon Terodde will likely show the way for his less-experienced teammates once again, having played in a host of derbies during his career and having already supplied 19 goals this season for the Rothosen.