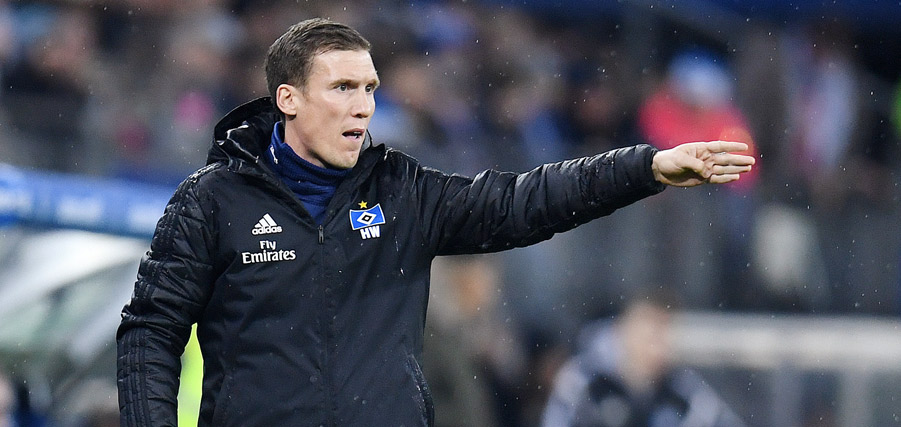 Post Match Report
08.12.18
Desire and humility key in the win
A day after the 1-0 home win over SC Paderborn, head coach Hannes Wolf discussed the run of wins and how the side now needs to focus on the next few games.
The mood will be good for all of the HSV players. After a 1-0 win in the final home game of the calendar year, the players will now be more than happy to pay a visit to various HSV fan clubs across the country. The 1-0 win will have ensured the players will be thinking positively and that they are also still top of the 2. Bundesliga. A concentrated team performance and sensational support from the home fans were the two biggest factors in the success. Despite some typically drab weather in Hamburg, around 50,000 fans still got behind their team in the Volksparkstadion. The fans came hoping to see a home win and got their wish thanks to Khaled Narey's eleventh minute strike. The rest of the game was somewhat entertaining, with HSV the more dominant outfit. Had the hosts taken more chances, the scoreline would have deservedly been more convincing. Nonetheless, HSV saw the game out and will visit their respective fan clubs having won 34 points from 16 league games so far. This strong record is mainly down to the fact that the team is now unbeaten in ten league games. As a result, Hannes Wolf was very satisfied after the game, but he was still keen to stress that there are still two important matches to play before the winter break.
The boss spoke about…
… his thoughts after three home games as HSV head coach: It was a nice evening yesterday in my third home game. Mind you, we have two difficult games coming up. It was emotional yesterday and we were glad, but we have to stay on track now.

… the hard-fought victory: We've won a lot of games recently and that's important. I didn't think for a second that it'd be easy. Obviously we want to play better, but if you don't take your chances then there's always a risk that you won't win the game. We stayed focussed. If I could have decided, I would've rather won 3-0, but it's not that easy.

… Bakery Jatta's role: He earned his chance because of his substitute appearances and training. I'm happy when players develop well. He played well. I try to help him, but he helps himself too. Now it's about carrying on working hard. All in all, he's on the right track.
… the next steps going forward: We want to work just as hard going forward, be compact, and defend. The next step is keeping the groundwork and building on it. We have to avoid the mistake of going forward and losing our groundwork. We want to improve our attacks and stay strong. If we lose even five percent, then we won't be winning our games anymore.