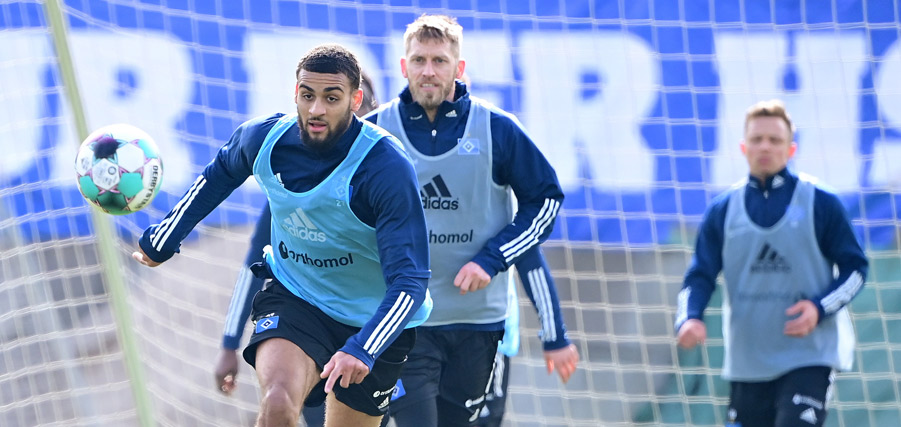 Despite setbacks, HSV has Heidenheim in its sights
Whilst Simon Terodde starts his quarantine stint, the rest of the squad is focussed on the upcoming home game against 1. FC Heidenheim.
Being able to stay calm and not lose focus despite all happening around you is particularly important in these current times. This is particularly true for HSV this week, as Simon Terodde's positive coronavirus test doesn't just mean a two-week quarantine for the 33-year-old, but also that HSV's top goalgetter this season (20 league goals) will be missing for the arrival of 1. FC Heidenheim at the Volksparkstadion on Saturday (kick-off 1:00pm CET). A new situation for the Rothosen, who due to strict adherence to the hygiene concept have only had one previous positive test, which was from Stephan Ambrosius whilst with the German under-21 team in October.
"That's just the way it is at the moment, unfortunately it's something we can't control. Nevertheless, I am sure that we will be able to compensate for it," said Michael Mutzel, referring to the sporting significance of Terodde's absence, already turning his gaze to the future yesterday afternoon (Tuesday 16th March). The HSV sporting director - just like all the other people in charge at the Volkspark - is dealing with the facts in a very professional manner and, in addition to Terodde's health ("We wish him a speedy recovery and are in constant communication with him"), isn't taking his eye off the bigger picture. This seems to be a logical strategy with the upcoming home match against 7th-placed Heidenheim coming into view. After all, the HSV first team will have to put in their best performance against the in-form Heidenheimer (13 points from their past five games) to ensure that the three points are left behind in Hamburg.
It is not yet clear whether Jeremy Dudziak will be able to help as the Rothosen look for momentum after the crucial win over Bochum on Friday night. The midfielder had to withdraw from this morning's session, which was held after all the coronavirus rapid tests came back negative, due to shoulder problems. The 25-year-old is currently being examined in the university hospital. Losing Dudziak would further aggravate the personnel shortage in the centre of midfield, even though David Kinsombi (hip flexor strain) was able to train individually again today. The central midfielder worked together with Toni Leistner (muscle bundle tear in the thigh) and Rick van Drongelen (ankle ligament tear) away from the rest of the squad. All will be needed to overcome Heidenheim on Saturday.