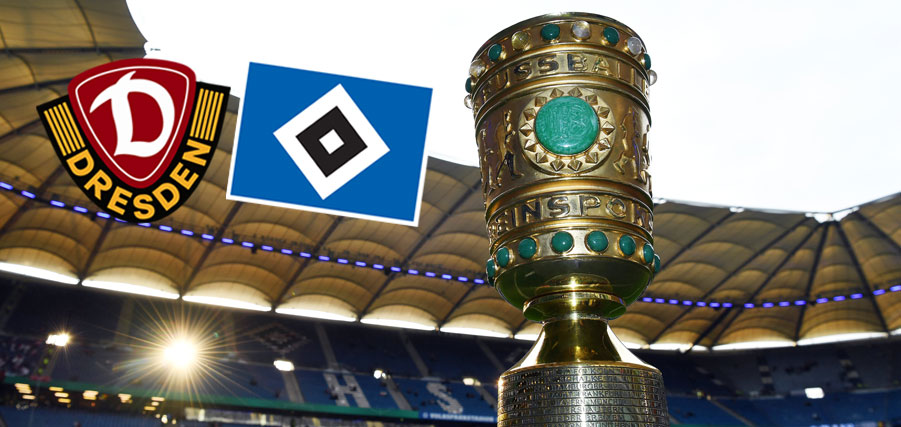 Dresden the hosts in DFB Pokal first round for HSV
The Rothosen were drawn away to recently-relegated Dynamo Dresden in the first round of the DFB Pokal on the weekend of the 12th September.
The preparations for the 2020/21 season gather pace, as the draw for the first round of the DFB Pokal was made on Sunday evening (26th July), drawing Hamburger SV away to 3. Liga side Dynamo Dresden. The draw, completed by the DFB president Fritz Keller and the DFB's General Secretary Heike Ullrich, was different to normal, due to the names of 23 participants in the first round not being known yet, as regional cups are yet to reach their conclusion due to the coronavirus pandemic. A sizeable amount of teams were left with a placeholder for their possible opponent, but that wasn't the case for HSV, who were given a tricky trip to the Rudolf Harbig Stadion in Dresden to face Eastern giants Dynamo, who finished the recently-completed 2. Liga season in last position.

The Rothosen face a fifth trip to former East Germany in the past seven years in the first round of the cup, after visits to Jena (2013 and 2015), Cottbus (2014), Zwickau (2016) and Chemnitz last year. Former HSV Head of Sport Ralf Becker also provides a friendly face in Saxony, having taken over at Dresden this summer. "The match-up is certainly one of the more exciting in the draw. The advantage is that at least we know exactly who we're coming up against. A duel between two traditional sides, and I'm looking forward to a really attractive game to kick off the season," said HSV manager Daniel Thioune. The remaining places in the first round will be decided on the 22nd August as part of cup-final day 'Finaltag der Amateure', after which all of the fixtures will be given an exact date and time.