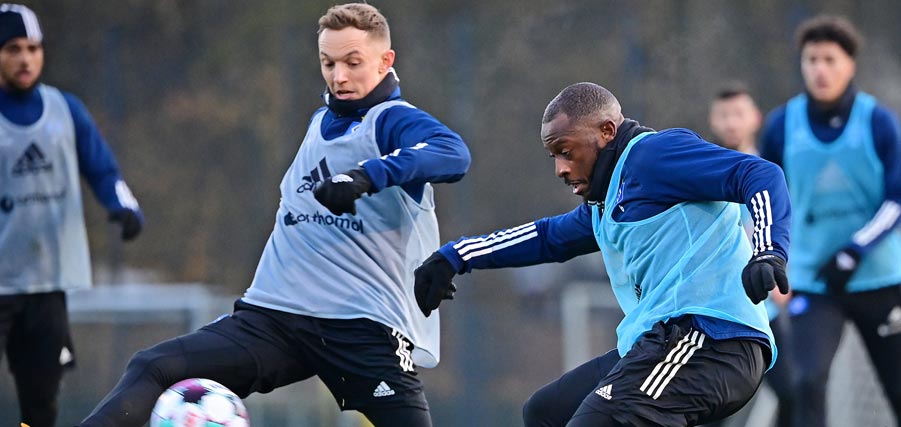 Dudziak receives another knockback as Heidenheim await on Sunday
The HSV first team began their working week with a double shift on Wednesday, but Jeremy Dudziak's injury concerns from the weekend resurfaced.
HSV fans had their hearts in their mouths on Sunday, as Jeremy Dudziak had to be helped from the field by the medical staff after an overzealous challenge from Bochum's Danny Blum on his ankle. Given the midfielder's injury difficulties last season, the worst was feared for Dudziak, but fortunately the 25-year-old only suffered bruising and swelling and was able to join his teammates for the first of two training sessions on Wednesday morning (25th November).
The joy was short-lived as 'Jerry' received a knock in the affected area again, and had to sit out the rest of the session. "There's a lot of swelling, but I can't imagine that he'll be missing against Heidenheim," manager Daniel Thioune confirmed in a short meeting with the assembled journalists after training. Whether a fit Dudziak is in the squad or not, a clear improvement in performance is necessary in Baden-Württemberg on Sunday (kick-off 1:30pm CET). 46-year-old Thioune bemoaned the lack of quick, purposeful passing in the last few games and thus was the focus of the day, working on counter-attacking and playing the ball out from the back, demanding more bravery and runs off the ball from his charges. Dudziak, who is known for turning defence into attack and getting his team moving forward, trained on his own in the afternoon, and will hopefully be back on the training pitch soon, without another setback.