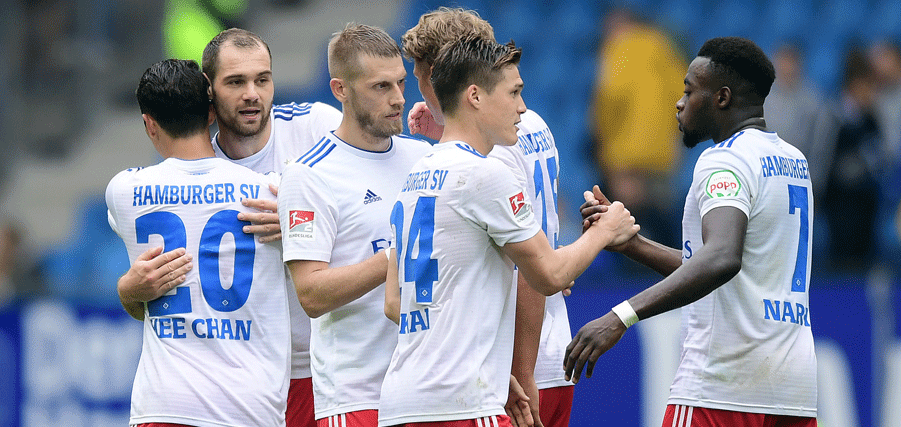 Pre Match Report
16.09.18
Aiming to go top of the table at Dresden on Tuesday
After Saturday's 3-2 home victory against Heidenheim, HSV now travel to Dresden for a mid-week fixture in this busy week for the club.
Only 20 hours after the full-time whistle in the Volksparkstadion, the HSV players were back in training ahead of Tuesday's match against Dynamo Dresden. The Rothosen participated in a cycling session in the Volkspark to let their heads run free after an exhausting victory at home to 1. FC Heidenheim. In his press conference on Sunday, HSV coach Christian Titz not only spoke about the thrill of the team's third league win in a row, but he also looked ahead to the next match in Dresden. The team cannot enjoy Saturday's win for too long as they aim to go top of the 2. Bundesliga table with a victory on Tuesday evening. Victory on Saturday was especially important because they came from behind to defeat Heidenheim. There are many unknowns surrounding Dynamo Dresden, who currently are on their third manager after just five matches, and this has made it difficult for Titz and his coaching team to prepare for Dresden's style of play.

Christian Titz about…
…the 3-2 victory over Heidenheim: As we expected, it was a very difficult match. Heidenheim are known for their compact style of play and they proved it to us very impressively. They were also very dangerous on the counter attack and we gave them too many opportunities in front of goal. We could've defended much better in these situations. It is very positive that we scored three goals and that we had the right mentality to turn this game around.
…Lasogga's hat-trick: Pierre is made for games like this. This was also our plan. Heidenheim continued to sit back, meaning that they would eventually lose concentration and we would get more chances in and around their box. We then brought Pierre off the bench, who is an ideal player in this situation as he possesses a lot of strength. However, you cannot forget that he was injured this week and we wanted to be cautious with him. This is a reason why he started on the bench against Heidenheim.
…new signing Hwang: I think he played very well. He has only trained twice with the team after previously being involved in a lot of games and travelling. You shouldn't ignore this. He was involved in a lot of good moves and he was unlucky not to score his first goal for the club. Hwang had two good chances in the first again and he was all alone in front of goal just before we went 3-1 up. It is a shame he didn't score but you can now see that he is a special player.

…squad updates: On Monday, we will watch the video analysis from the Heidenheim match then train and travel to Dresden by train. Lewis Holtby and Tatsuya Ito will not travel to Dresden as Holtby is still injured and Tatsu is suffering from an infection and fever. I plan to include Rick van Drongelen and Vasilije Janjicic, who are both healthy again. They stayed fit at the Heidenheim game so we assume they will be able to travel to Dresden with us.
…the rearranged match against Dynamo Dresden: Maik Walkpurgis is Dynamo's third manager of the season so our analysis of our opponents starts from scratch. In their last match in Regensburg, they played very differently to the style under Christian Fiel, much more defensive but they can counter very quickly. Our team will take on this situation and they know that every game is difficult in this competitive league. We won't change much having won four matches in a row. I also don't feel any complacency in the team, instead a great mentality.