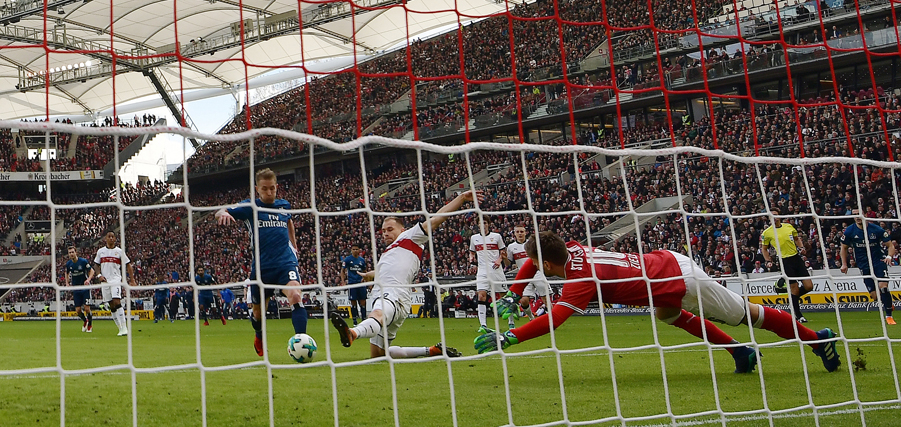 Post match reaction
31.03.18
"Every point we get is crucial"
Despite a good performance on matchday 28, HSV had to settle for a 1-1 draw against VfB Stuttgart. Even though it hurts to miss out on a win, this is a step in the right direction for the Rothosen. HSV.de have all the reaction to the game.
HSV again looked clearly improved in their second tilt under new head coach Christian Titz and caused problems for Stuttgart. Lewis Holtby gave HSV the deserved lead in the 18th minute, although Ginczeck managed to equalise shortly before the break (44'). The Rothosen continued to pressure their opponents as the game wound down, but just couldn't renew their lead. The players were positive on the whole after a performance which should give them a bit of confidence going into the last six games of the season.
Lewis Holtby: After our misfortune over the last few weeks, it was really important that we got back to basics. We did that today. We took the lead early on, but then fell behind due to a fortunate goal. Every point we get is crucial. We would have liked to win, especially in light of the other results today, but now we have to shift our attention to Schalke and get back to winning ways. Football has a lot to do with courage. It's all in the head. Everyone has bought into the manager's system and things clearly are looking much better. We still have six games to go. We refuse to talk about the second division and that will remain the case as long as we are still in with a shout of staying up.
Gideon Jung: We unfortunately couldn't quite manage to score one more than our opponents today. We gave all that we had. The result was obviously very disappointing for us. We've lost a lot of games in a row, so we have to live with the point. The team is sticking together. It doesn't matter if it's a younger or an older player who's out there on the pitch.
Aaron Hunt: We got a point and we're obviously not giving up. There were a lot of positives to take from the game, especially in the first half. We have to build on this. We've been working on being better on the ball recently and that showed today. The young players we have in the squad are quality guys, and we're trying to support them as best we can. The coach makes the decisions himself, we have to accept them and do as best we can.
Andre Hahn: The point is worth something. We didn't lose the game and even managed to dominate for 43 minutes. We had a good amount of possession, played it around a bit and created some good chances. Stuttgart capitalised well on our mistake to get the equaliser. From there, they tried to get on top but we stopped them with our courage. I think our play is coming along nicely. The team is working hard to try and use every last opportunity we have in this relegation battle.
Luca Waldschmidt: The first half was really very good. Up until the goal, we didn't let anything through. I think we played some nice football. We passed it around well at the back and managed to work a few chances. Then we had a lapse in concentration and conceded the equaliser. Today was a step in the right direction. We got ourselves a point; three would have obviously been nicer but we are on the way up.
Christian Titz: We are obviously disappointed that it finished 1-1 because in our position you have to pick up as many points as possible. At the same time however there are a lot of positives that we can take from the game. The team played with a lot of courage and gave everything against a strong Stuttgart side. The young players out there justified their selection. Ambrosius made a good Bundesliga debut until we swapped him out for tactical reasons, as we wanted to bring in Drongelen and use his left foot. Matt Steimann showed again that he is capable of playing at this level.
Tayfun Korkut: It was a tough game, as expected. In the first half we had problems and left a lot of room for them to exploit. We weren't as compact as we have been in recent weeks. We managed to come back despite going down and then the second half was a huge improvement even if we didn't manage to get that all-important second goal. We will have to make do with the point.