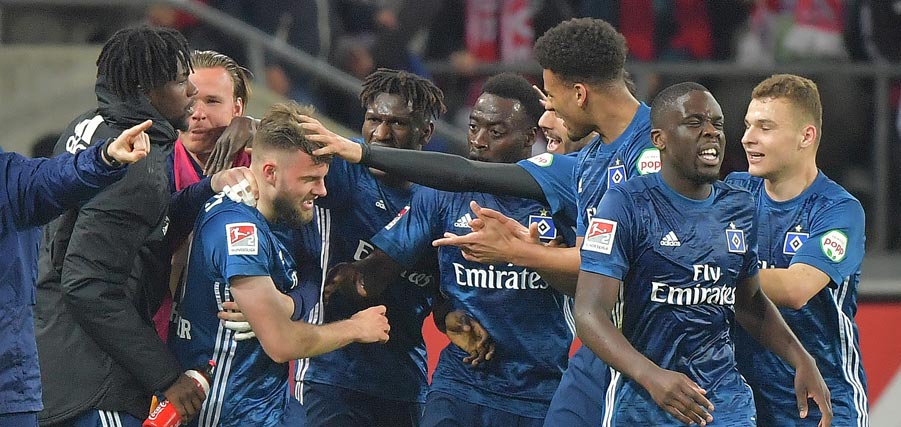 Post-match reactions
15.04.19
"Everybody fought for one another"
HSV picked up a hard-fought point in the top of the table clash with Köln. As a result, there were several positive post-match reactions.
When referee Robert Hartmann blew the final whistle after 93 intense minutes, the HSV players sank to the floor exhausted. Hannes Wolf's team had given their all and played good football too in the second half. After going behind to a Dominik Drexler goal in the 26th minute, the Rothosen responded well. Manuel Wintzheimer's equaliser five minutes from the end was fully deserved. The striker, who came off the bench, scored his first competitive HSV goal and put in a strong showing. HSV hadn't won any of their last three league fixtures (one draw, two defeats), so the performance in Köln is definitely a step in the right direction. The post-match reactions that hsv.de have summarised were certainly very positive.
Manuel Wintzheimer: It's a good feeling knowing that I helped the team with my goal. We put a lot of pressure on in the second half and had 12 shots on goal, whereas they only had the one. Everybody fought for one another. I think a 1-1 draw is fair, as both teams had one superior half each. My first professional goal is obviously something very special to me. Everything went so quickly for the goal. I didn't think about it, I just hit it. After that I was so happy. It's difficult as a young player – you have to try and impress as much as you can in training. It's a shame that Pierre was missing, as he's an important player for us, however I'm glad that I got my chance. This is a good start for me, but I have to keep working hard.
Gotoku Sakai: We didn't start particularly well due to a few small mistakes we made. Köln found their rhythm and also were being pushed on by their fans. This threw us a back a little bit, but we carried on fighting hard. There have been several phases of this season, where we have good and bad periods. It's key that we can show we can fight back. We showed what we are capable of in the second half. Our mentality tonight was incredible. We need competition for places in the squad, and Manuel Wintzheimer and Leo Lacroix definitely provide that. Against Aue we cannot make the same mistakes we did in the reverse fixture – we need to have the same mentality we did tonight.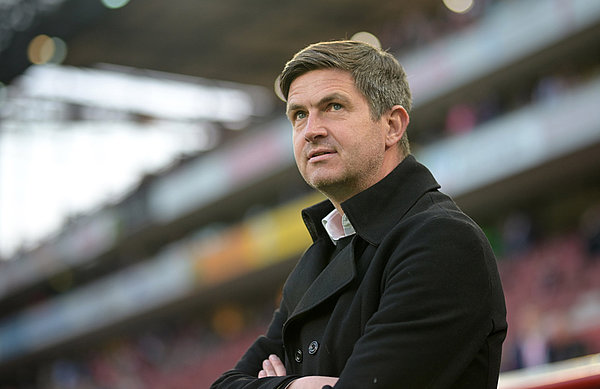 Ralf Becker: We weren't that bad in the first 45 minutes, however we allowed them too many chances from set-pieces. We then put a lot of pressure on them in the second half and spent the majority of it in their half. Everybody gave their all and put their bodies on the line. You could see how much the lads wanted it on the pitch.
Hannes Wolf: We didn't go into this game in the best of shape. We were missing several players and had lost our last two games due to late goals. Considering that, we did very well today. We played extremely well in the second half. We played quick football and still managed to stop them playing effectively on the counter. Our late equaliser was fully deserved. I'm pleased for Manuel Wintzheimer. Football can difficult sometimes, especially when you're injured or you're a young player trying to get into the team. Manu has trained well and scored a really important goal for us today. Leo Lacroix has also been out of the side for a while, but he came in and did well too. We will now switch our focus to Aue. We have to approach that game in a similar way and put in as good as a performance too.
Markus Anfang: I was really impressed with our first-half performance. We had a lot of good attacks. We tried to use the wings and get crosses in. We were good value for the lead and had the game under control. The turning point was when Jung didn't see a second yellow card for a foul and we then didn't have a man advantage. After that we failed to defend well from the front. HSV then improved too. It's annoying, but we are complaining about some small things.