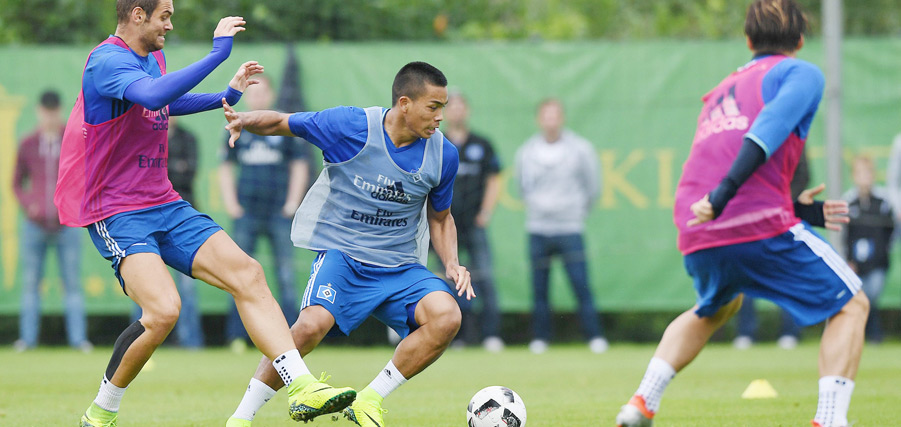 Bobby Wood: "Everyone is fighting for his chance"
Bobby Wood is back in Hamburg from international duty. In a chat with HSV:de, the 23 year old striker explains his early return, the fight for first team places and his position in the team.
While seven Rothosen men are away on international duty, those left behind are preparing for their next mega-tough Bundesliga clash away to Borussia Mönchengladbach on Saturday (15.10.16 3.30 PM). Of course everyone is keen to reverse the negative trend as HSV languish at the bottom of the Bundesliga table after failing to win any of their first six games of the new season. In order to aid that process, USA striker Bobby Wood returned to Hamburg early on Sunday, after his national team beat Cuba 2-0 in the first ever encounter between the two teams. HSV.decaught up with him on his return and chatted on the following topics…
… the historic game against Cuba: It was interesting and unique to be part of the whole thing. I had never been to Havana. The atmosphere and environment is like being back in the 50s. It was very special to be able to experience something like that. The people warmly welcomed us, were open and interested in everything, and we won the game which of course was important.
… his early return: My early return was planned before the trip to America. It is of course a great honour to represent your country and I am grateful and glad that our coach Jürgen Klinsmann spared his European-based players the long haul fight which is 10 hours each way. Now we can relax a little and prepare for the next game on Saturday which is a good thing.
… the change of coach: It is never nice when a coach has to go. Bruno Labbadia gave me a lot of confidence, told me where I could improve and supported me all the way. In Markus Gisdol, we have a good coach who really motivates us. We can learn a lot from him. He took the time to talk to all of us individually to get to know us and discuss expectations and tactical matters. I like that a lot.
… competition for first team places: Of course you feel the competitive pressure. Everyone is fit and fighting for his chance. When a new coach comes in everyone starts with a clean slate, so it is normal that motivation is high, with everyone keen to impress.
… the attacking system: A striker like me of course always wants to get stuck into it. It is not that important which system our coach chooses to use – one striker or two is not a problem for me. You mustn't think too much about it just play your game. Of course results are very important. Of course I want to play but whatever is best for the team takes top priority.
… his position in the team: I didn't join HSV to sit on the bench. I always wanted to start each game and establish myself as a first team regular for the whole season. I also know however that I have work to do. A striker simply has to score goals and that is not going well right now. But we must remain positive, put the past to bed and look ahead. If you have negativity in your head it hampers more than it helps.