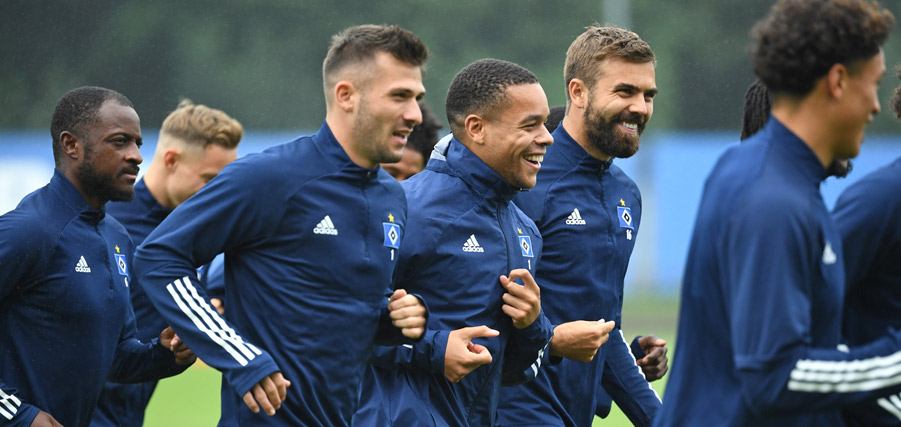 Final touches added as Terodde and Gyamerah return
Simon Terodde and Jan Gyamerah were back in action on Wednesday as the preparations for Dresden entered the final stages.
The Hamburg weather was there to remind everybody that September had arrived, as the HSV first team started the final week of pre-season training in unrelenting drizzle at the Volkspark. With the opening game of the season against Dynamo Dresden in the DFB Pokal six days away (Monday 14th September, kick-off 6:30pm CET) and after two days of regeneration, Daniel Thioune started the afternoon training session with a reminder that the opening game is less than a week away. The HSV head coach started the week of training with some good news, as Simon Terodde (32) and Jan Gyamerah (25) were able to fully take part in training again, having sat out last week's training and friendly win over Hertha BSC with muscular problems. For both parties the stress placed on their bodies will be slowly increased over the coming days, with Thioune wanting to be particularly careful with Gyamerah. "We have to be patient with him. There's no pressure from us. We don't want to go from 0-100 because we can't forget that he's still coming back from a long injury," Thioune explained to the waiting journalists after the session. Terodde meanwhile may be fit enough to make the squad on Monday night in Saxony.
Klaus Gjasula (30) and Josha Vagnoman (19) were not to be seen at the Volkspark as they recovered from their exertions with their respective national teams. Vagnoman played the second half of the German under-21s 4-1 defeat to Belgium on Tuesday night, whilst Gjasula was also on the receiving end of a disappointing loss, this time for his native Albania against Lithuania. Both should return to training tomorrow for a double shift, whilst the rain should slowly dissipate heading into what is forecast to be a hot weekend.