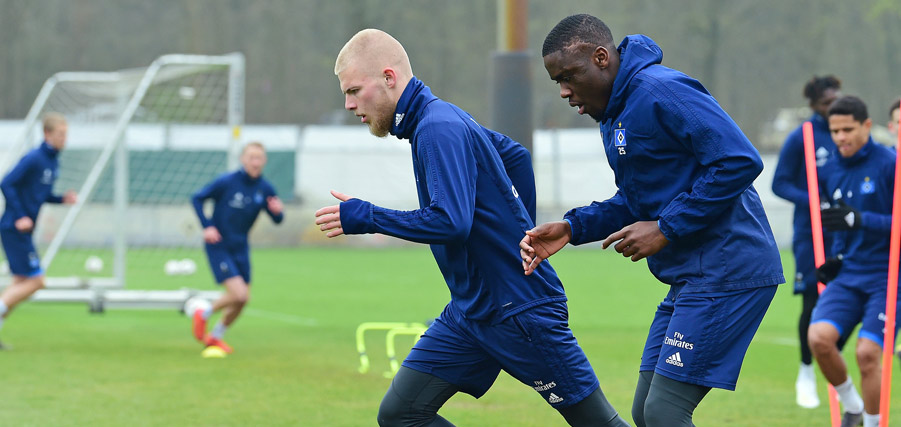 Focus shifts towards Köln
Wolf not taking any risks with injured players. Lasogga leaves training early, Vagnoman able to take part in full training session.
Preparations have kicked into high gear ahead of Hamburger SV's away game against 1. FC Köln. The match between the two top teams in the second division will kick off on Monday, 15th April at 20:15 CEST. In the meantime, Hannes Wolf made sure to pay close attention to Köln's high-scoring game against MSV Duisburg yesterday (4-4). "Of course I watched that match. We're going to make sure to prepare ourselves tactically to face Köln. However, tactics can only help us so much," said the head coach.
The team's training session on Thursday centered on a six-on-six tournament between three teams, one that Pierre-Michel Lasogga had to leave early. "Pierre felt something in his adductor muscle, so we decided to take him out as a preventative measure," said Wolf. Lewis Holtby also departed training early after taking a knock to his ankle.
Not involved was Aaron Hunt. After training out on the pitches over the past few days, Hunt stayed indoors today. "He felt some minor pain in his back. In his case we need to be careful, since it's the third time he's had this problem," said Wolf. Hee-chan Hwang has since made his return to training, although the South Korean is still not fully fit. "He's on the way back. But, we need to take our time, even though we would really like to have all the boys back immediately. If something else were to happen, it would end their season. That's why we have to take it step by step. It would be nice if he were back in the squad in time to face Aue."
Of the three potential returnees, Josha Vagnoman has the best chances to join the team again soonest. After the 18-year-old partially ruptured the ligament in his right knee against Heidenheim in February, he was able to complete his rehabilitation and take part in training once again. "Josha is the closest to making his return. He took part in the tournament during training today," said Wolf. But, it's too early to hope that Vagnoman will have a spot in the squad for the match against Köln.