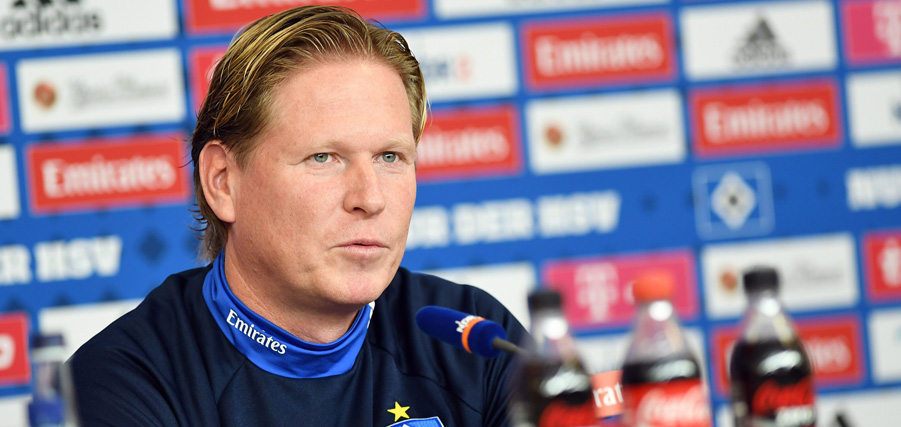 Press conference
16.02.17
"Freiburg are better than people think"
At the press conference ahead of the Bundesliga matchday 21 visit of SC Freiburg to the Volksparkstadion on Saturday, Rothosen coach Markus Gisdol discussed the mood in the team the strengths of Freiburg and his own contract situation.
Markus Gisdol took time off last night to enjoy some Champions League action. Not football but handball. The HSV coach watched the game between THW Kiel against Hungarian outfit Telekom Veszprem: "It was a welcome change. I enjoy watching other top class sport", he revealed. Gisdol maintains close contact with the top northern German club in Kiel, after spending time there to observe training methods last year at the invitation of head coach Alfred Gislason. It was time for another visit but Gisdol was not a lucky charm for them as they lost their group game 25-27. Gisdol: "Alfred is always welcome at our place to have a look around." The next chance to do so would be on Saturday (18.02) as Gisdol's men host SC Freiburg at the Volksparkstadion on matchday 21. Gisdol discussed several topics at the pre-match press conference on Thursday. (16.02).
Markus Gisdol on…
…team selection: Finn Porath is still ruledout and must recover from his tendon injury. He has some catching up to do. Michael Gregoritsch made a good impression partially training with the team nut we are still not sure. His injured foot showed no reaction. We will monitor his situation closely leading up to the game.
…current mood in the team: As a coach you must be constantly aware of which direction the mood might go. The current mood is of course more positive than it has been in recent weeks, which makes it tougher to maintain the necessary tension. So that is a challenge. It is a positive situation although unusual. I do not have the impression that the team is euphoric but far more focused.
…three consecutive victories: It has been a long time since three straight gameswerewon in Hamburg, which is why it is ok to discuss it. But it is also not that long ago that we lost several games in a row. It is nice to see another side than we had done many times so far this season.
…next opponent: Freiburg have dealt well with the euphoria of their promotion to the top flight at the end of last season. There always seems to be an incredible sense of calm there which is a part of their success formula. They go through a Bundesliga season without any pressure, so whoever plays them large or small team must play to their best in order to beat them. Freiburg are much better than some people think and are not currently where they belong. They punched above their weight in the unlucky season they were relegated.
…good start from new signing Walace: I cannot predict how he will develop. He still has adjustment problems during training which is perfectly normal. It is impossible to switch overnight from the way Brazilians play to the quicker and more intense style of the Bundesliga. He is doing incredibly well but it is possible that he may experience a drop which is understandable and would not be a problem. At the moment though there is no sign of it happening.
...possible contract talks: I enjoy being head coach in Hamburg. I enjoy the trust the club have bestowed on me. I have also signalled the club that I am prepared to discuss a contract extension. I am sure we will have a chance to do so over coming weeks, but it does not have top priority. It is vital that such things are not allowed to distract us from our season goal whi9cbh of course is to remain in the top flight. We will deal with it at the appropriate time and announce any news accordingly.