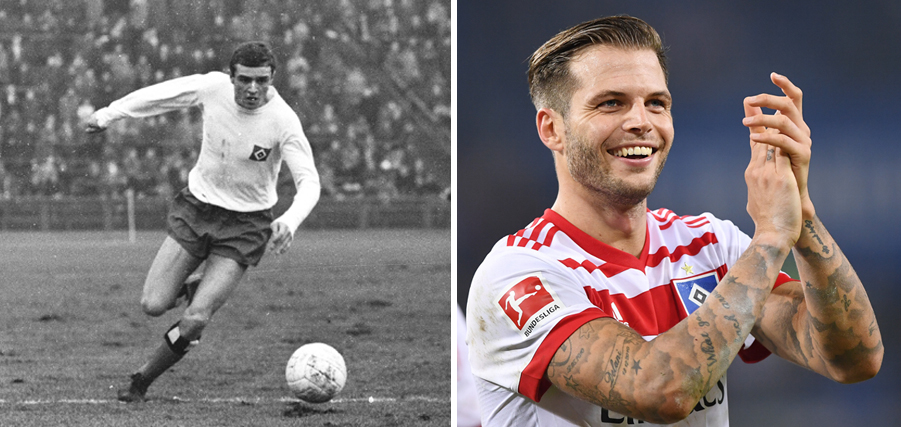 preliminary report
30.01.19
From Dörfel to Diekmeier – former players' debuts against HSV
When HSV face SV Sandhausen in the Volksparkstadion this evening, Dennis Diekmeier will make his professional debut for his new club, against his old club. With the appearance, he'll be the eighth player to join an illustrious list of names.
"There are stories that only football could write," is a saying that almost everyone has heard. Another chapter will be added to the story of former HSV player Dennis Diekmeier this evening, when he makes his debut for his new club. The defender had been at Hamburg since 2010 but left the club on expiry of his contract last summer after having played 173 Bundesliga games. "Dieki" did not sign for another club until the start of this month, when he agreed a deal with SV Sandhausen. Now, in his first game with his new side, he'll face his former club. It will be a farewell game, so to speak.
Bernd beats captain Charly
Before the game, Diekmeier is to receive a bunch of flowers. Due to Sandhausen's highly focussed pre-match procedures, it was unsure whether this would go ahead. What is certain, however: Diekmeier will make his competitive debut against HSV and joins an illustrious list of former Rothosen players, which includes seven names, beginning with Bernd Dörfel (17 August 1968), who have played against their former team. The brother of Charly Dörfel played against his former team in the 1968/69 season after joining Eintracht Braunschweig from HSV. He had made 88 appearances over four years for HSV. It was Charly Dörfel who captained HSV that day as he took on his brother's team. The game ended 1-0 to the home side, leaving Bernd with the three points and an unpleasant trip home for Charly.
It took around 35 years and two more players (Werner Dreßel 1981 and Florian Weichert 1993) until a former played could celebrate a win against HSV on their debut. On 13th September 2003, Ingo Hertzsch won 1-0 against Hamburg on his debut for Bayer Leverkusen, after six years and 151 games for the club. Alexander Laas could not repeat the feat four and a half years later with VfL Wolfsburg, drawing 1-1 against his former side.
Breaking the run?
Maxi Beister was more successful. On the 5th December 2015, the former HSV striker came to the Volksparkstadion with Mainz and won 3-1. It was Beister's only appearance for Mainz in the Bundesliga – he was brought on in the 85th minute to replace current HSV star Jairo Sampeiro, who had scored twice in that game. Last on the list is Michael Gregoritsch, who returned to Germany's north coast on his FC Augsburg debut on the opening day of the 2017/18 season. HSV won the game 1-0 and the points remained in Hamburg. This needs to be the same for Dennis Diekmeier on his Sandhausen debut on Wednesday night as far as HSV are concerned. The old crowd favourite will be given a loud and warm reception upon his return. If he were to score a goal, that would surely be celebrated as well, since Diekmeier was not able to find the back of the net in 173 games for HSV. If this run was to end, in the Volksparkstadion of all places, then it really would be a story that only football can write.
Player*At HSVNew clubDate of gameResult
Bernd Dörfel88/17 BL (1964-68)Eintr. Braunschweig17.08.19681-0 (H)
Werner Dreßel16/3 BL (1980-81)1. FC Nürnberg28.08.19810-3 (H)
Florian Weichert21/4 BL (1992-93)VfB Leipzig17.09.19931-4 (H)
Ingo Hertzsch151/1 BL (1997-2003)Bayer Leverkusen13.09.20031-0 (H)
Alexander Laas27/1 BL (2005-07)VfL Wolfsburg22.03.20081-1 (H)
Maximilian Beister46/8 BL (2009-15)1. FSV Mainz 0505.12.20153-1 (A)
Michael Gregoritsch55/10 BL (2015-17)FC Augsburg19.08.20170-1 (A)
Dennis Diekmeier173/0 BL (2010-18)SV Sandhausen30.01.2019? (A)
* Players who left HSV, then made their debut for their new club against HSV.
Source: Broder-Jürgen Trede