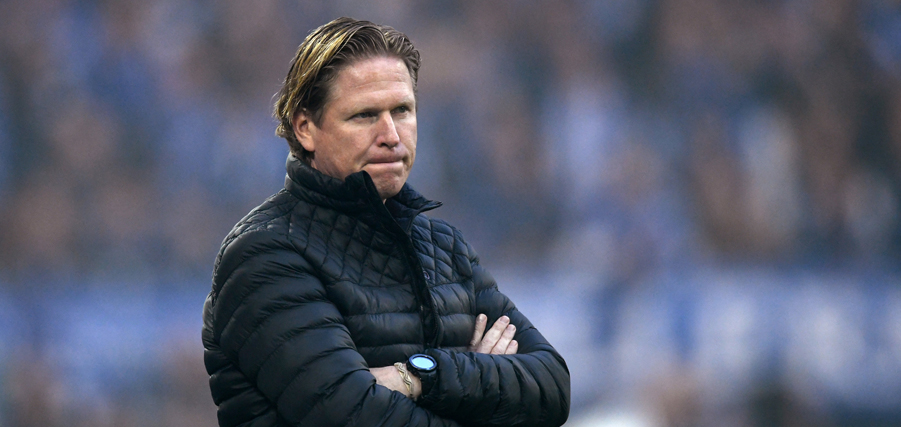 Post match Report
20.11.17
Frustration over missed chances
It wasn't the first time this season HSV have come away with nothing after a competent team performance. It is a situation that is cause for a lot of frustration within the team camp – something the team wants to change as quickly as possible.
The Rothosen underwent a recovery and recuperation session on Monday following Sunday's 2-0 defeat to Schalke 04. After the video analysis, the team split, some players going for a gym session, others for a run in the Volkspark, while the remainder trained as usual with footballs. The displeasure within the team caused by the discrepancy between performances and results was noticeable. Markus Gisdol put words to it: "I see the danger with saying it was a good performance despite the defeat. It's not good to come away with nothing even if you've put in a good performance." The result makes the final five games before the winter break even more crucial. "We haven't picked up enough points so far and that has to change quickly."
HSV.de reviewed the 2-0 loss against Schalke, as well as giving an update on injuries in the squad and then looked ahead to the week ahead.
On the game: Hamburg started the game on the front foot, showing the initiative against a team unbeaten in five games. "We controlled the game up until the penalty, finding ourselves in good positions in their third, but missing composure in our execution," reflected Aaron Hunt. Franco Di Santo put the hosts 1-0 from the spot, after Gideon Jung had bundled over Konoplyanka in the area. So HSV were down after only 17 minutes, but the Rothosen continued to press, the best chance coming after 57 minutes when Hunt hit the outside of the post from an Arp pass. Hamburg were forced to take more risks as the game progressed, leaving themselves vulnerable on the counter and Guido Burgstaller's tap-in at the far post confirmed the result with 10 minutes to go. "It was another unnecessary loss and that hurts," said Hunt after the game. The teams were virtually neck and neck on the statistics front (51-49 possession, 52-48 tackles, 80-78 pass completion rate), but the one stat that mattered read 2-0.
On personnel: Gisdol has a cautionary message regarding Diekmeier after the game: "Dennis suffered from a cramp in the game and risks missing the Hoffenheim game." Things are more positive concerning Albin Ekdal though. "We need to take it day by day with Albin. It's going to be hit and miss whether he's fit or not," said Gisdol.
Gisdol had praise for two particular players after the game. "Tom Mickel (replacing Julian Pollersbeck on the bench as second goalkeeper) trained extremely well and we rewarded his commitment. Nothing got past him in training." Luca Waldschmidt is another. Waldschmidt came on in the 37th minute for Tatsuya Ito and impressed the head coach. "Good performances in training will be rewarded with game time. Luca is a young guy and I hope he can consolidate at the top level."
On the week ahead: The Rothosen have a double training session on Wednesday after Tuesday's day off. The focus ahead of Sunday's home match against TSG Hoffenheim is on scoring goals. "We need to keep on working on our finishing," said Gisdol. The Rothosen are looking forward to playing in front of their home fans again. "We have five more games until the winter break, three of those are at home," the head coach continued. "Those are the games we have to get points from. We're behind at the moment and we need to make sure that changes quickly."