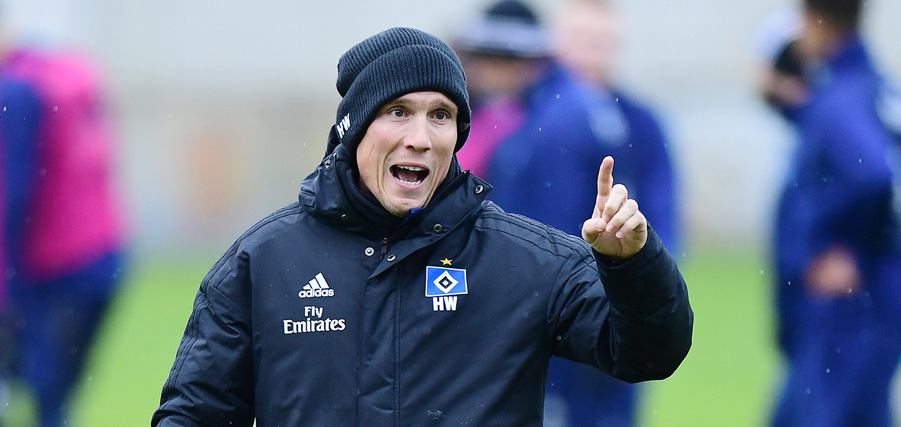 "Fully focused physically, mentally and emotionally"
HSV got preparations underway for the second half of the Bundesliga 2 season in front of 300 spectators in the Volksparkstadion. HSV coach Hannes Wolf made a clear plan at the session of how he envisions the coming three weeks of training.
At 11:04am on Saturday, the HSV first-team players descended the stairs down to the training pitches at the Volksparkstadion to officially kick off preparations for the remaining 16 second-tier games of the season. A 20-minute warm-up session lead by fitness coach Daniel Müssig and a short passing drill awaited the 26 Rothosen, including U21 players Aaron Opoku and Patric Pfeifer as well as U19s goalkeeper Kevin Haar, ahead of a full-length training session. HSV coach Hannes Wolf lead the session with two groups playing different training exercises. One group played on a small pitch in a six versus four format to practice playing with an overlap, while the other group performed a slalom dribbling exercise, finishing into a mini goal at the end of the course. The last drill to take place was a team competition, which the team of four Douglas Santos, Fiete Arp, Tatsuya Ito and Vasilije Janjicic won. Centre-back Gideon Jung, who missed the entire first half of the season with cartilage damage, was able to take part in the entire 100-minute training session in front of around 300 spectators. "The lads worked well. Of course, the first training session back after such a long break is always a somewhat bumpy ride, but the attitude and approach to today's session was impressive," Hannes Wolf appeared to be satisfied talking to the press after the opening training session of the New Year. The next six days will also see the team training long and hard at the Volkspark, before the squad heads off to La Manga, Spain on 12th January for a one-week training camp. "It's not always about how hard you train, it's also about how many aspects of your game you train, and that's something that takes a lot of time," explained the 37-year-old football coach while discussing the scope of the training, and also spoke about…
… the team's sporting New Year's resolutions for 2019: We want to prepare really well and we want to be working hard every day. The goal is to deliver a good performance against Sandhausen and to be fully focussed in our first home game. We won't achieve that by just thinking about the game, but we have to use every moment we have here in training. We have to work hard on every level – physically, mentally and emotionally. The coming four months will be really full-on, really exciting and very challenging. We need to be in top shape.
… how it feels going into the second half of the season being chased: We saw in the game in Kiel what happens in this league when you slack and aren't 100% focused. We took that as a warning and I don't think it's bad if we use that as a reminder to sharpen our senses. We have to be really, really on top of our game to pass the test of this league. At the same time, the first half of the season also showed that we have the chance to rack up the points when we're fully there.
… the top priorities in training: We have to cover every aspect of the game of football. The game in Kiel taught us a lot of things. We didn't approach the defensives one-on-ones in the right way. We certainly need stability in defence, we need to be compact and be able to react quickly to changes of possession. Nevertheless, football is always about developing yourself and you can cover most of the bases with the right formations. The fact is that we have to completely respect the toughness and pace of the league. If you start thinking that you're superior, then you start to lose matches.
… Gideon Jung's comeback: We can now put him in our plans again. We've given him and ourselves the time and space to allow the injury to completely heal and allow him to rebuild strength in his muscles. He's been off the ball for quite a while now and now he's a full member of the squad again, so of course we hope that he remains fit. It's great that he can play not only as a centre-back, but also as a defensive midfielder. I don't want to attach him too strongly to any one position, I'd much rather wait to see what would work best.
… different formations: We've been rather flexible so far, both in defence and whilst we've had possession, we've been adaptable. It depends a bit on which players are available for selection and how the opposition are playing. I've implemented many different playing systems in my career so I'm not restricted when it comes to that.
… possible Januar transfers: If there's something we can do to help the team, then that's what we should do of course. At the same time, we don't feel any pressure in this regard. We've got two players returning in Gideon and Pierre-Michel Lasogga, who have been out for quite a while and they will strengthen the team. We feel we have a great squad, but we've always got an eye on the transfer window. We know it's difficult to do things in January.
… the youngsters: Aaron Opoku and Patric Pfeiffer are young players from our own youth teams who certainly have potential. They're getting the chance to come here with us for a certain amount of time and get stuck in. Our demand from them is that they give it their all and use the opportunity every day. They're with us because we see potential in them and the lads have to show their quality now.