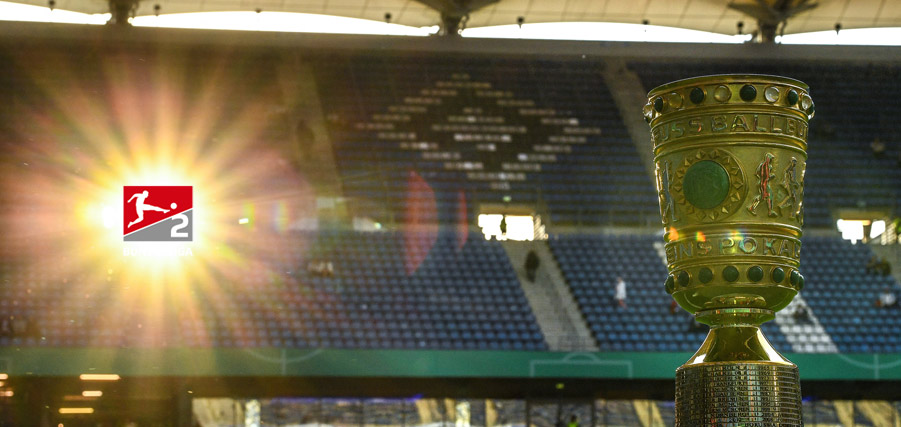 Post match report
24.04.19
Good cup run – now focus on the last few games
Hannes Wolf believes that HSV have had a good season in the cup despite the loss against Leipzig. He now wants to the side to focus on the last few games of the season in the 2. Bundesliga.
Bakery Jatta was chosen as man of the match in the DFB-Pokal semi-final last night. The winger played well, despite HSV's 3-1 defeat to RB Leipzig at home. Jatta wasn't chosen by football pundits, rather football fans decided by voting in the DFB app. That shows the impression that the HSV performance left on fans watching the game, even if Ralf Rangnick didn't agree. HSV left the pitch to great applause, even though they failed to reach the final in Berlin for the first time in 32 years. "We've had a good cup run. We can look back on it positively. Now we're focused on the league again," said Hannes Wolf.
"It was working"
HSV's next game is away to Union Berlin, back in the 2. Bundesliga. The side are currently fourth in the table and can overtake Hamburg with a win. "It's another game against Union. We have to be fully ready to get running again. It's a big game," said Wolf. Even though it's another game and HSV will be starting again, they can still take something from the cup game.
"We always try to use things and not start anew every time. There are moments in which you change things. That's what we did," said Wolf. Vasiljie Janjicic played as a central player between the two central defenders, Douglas Santos also played in the middle of the park, with Josha Vagnoman on the left and Khaled Narey on the right. "In principle, they're usually around these positions. So the change wasn't that great. We had some problems towards the start and Leipzig came with a lot of force. After that, we got some confidence from the goal and realised that it was working," added Wolf.
Good runs and be hard-working
The coach didn't confirm whether he'd stick with the same tactics for the coming games. Their opponents also won't be playing in the same way. You have to have an answer for everything, says Wolf. "You need good runs, have to be hard-working, and you need the final blow. You have to use the situations that you create. That's what we have to work on and put everything into it," said the head coach.
The players that didn't play or only played briefly on Tuesday evening were put through their paces on Wednesday, whilst the others did some cycling. The players will have Thursday off. "We have to regenerate well now, because we need the freshness against Union," said Wolf. HSV have the end of the season in their sights, and want to finish strongly.