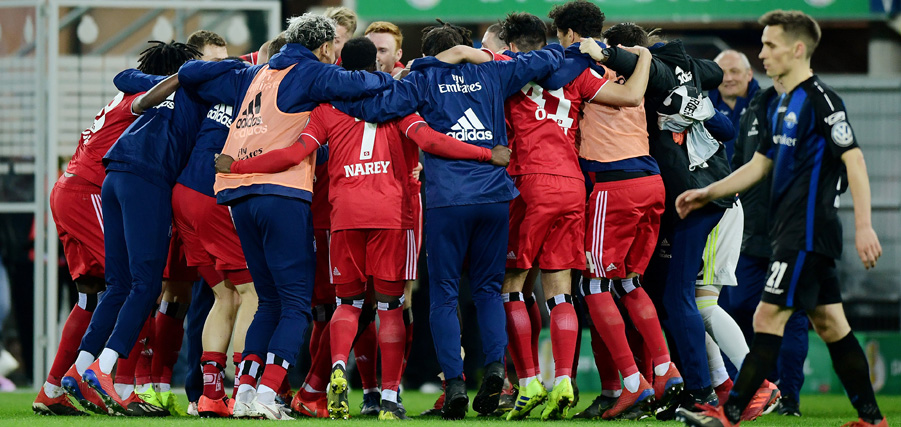 Post-match report
03.04.19
Taking energy from DFB-Pokal win into next game against Magdeburg
After securing a spot in the DFB-Pokal semi-finals, Hamburg are seeking to follow up their success with a win at home against FC Magdeburg on Monday night.
Chanting "semi-finals, semi-finals" is how Tom Mickel welcomed fans on his way to the training grounds on Wednesday afternoon. Following yesterday's 2-0 victory against SC Paderborn, Hamburg have secured a spot in the DFB-Pokal semi-finals for the first time since 2009. The 29-year-old backup keeper has been with Hamburg since 2009, with the exception of a two-year loan to Greuther Fürth. Mickel, together with Berkay Özcan, Khaled Narey, Aaron Opoku, Leo Lacroix, Jonas David, Mats Köhlert, Tatsuya Ito, Manuel Wintzheimer, Fiete Arp, and Bennett Schauer, headed to the training grounds, while yesterday's starting squad took part in recovery training inside the Volksparkstadion. Following the training session, Hamburg sporting director Ralf Becker spoke at a press conference in place of head coach Hannes Wolf, who was out sick. "What matters is if we're able to be successful against Magdeburg. We want to carry the excitement from yesterday's win with us. If we're able to do that and come away with another win it will have been a really good week for us," said Becker.
HSV.de is taking a look back at yesterday's quarterfinal match, giving an update on Hamburg's injury list, and previewing the upcoming game against FC Magdeburg.
The game: Not only did Hannes Wolf make three changes to the starting line-up for the quarterfinal against SC Paderborn, he also started three centre-backs in defence—including Kyriakos Papadopoulos, who made his return to the squad—and decided to go with a brand new formation. "Our plan was to play aggressively, which you're also able to do from a 3-4-3 formation. We didn't want to play a passive game. We wanted to let Papadopoulos play because we needed his mental strength, as well as a presence in the air," Wolf said during a press conference after the game, where he also revealed that his team had never practiced using the new formation. The new formation proved especially effective against the strong offensive side from Paderborn in the second half, after a goalless first half. "During the first half you could tell we were still a bit unsure, but we started playing really well in the second half and came out with a well-deserved win," Ralf Becker said on Wednesday afternoon. "It was important that the team brought a positive mindset to the game, especially coming out of a loss against Darmstadt and a tie in Bochum. That's exactly what they did right from the start, which made it an enjoyable evening for us." Pierre-Michel Lasogga's brace in the 54 and 68 minute (his 18th and 19th of the season) secured the win for Hamburg. "You need someone who will make things happen: Pierre proved yesterday that he's there when it matters most and has been a very important player for us this season," Becker said, and confirmed that contract renewal talks with the striker are going well.
Injury update: Kyriakos Papadopoulos celebrated his return to the squad after being out for 325 days. The Greek centre-back made his comeback and played the full 90 minutes without any prior match practice. "He came into the game cold. That's just how Papa is. He's a big presence on the field and gives it his all. He's a leader on the field and his mindset is a good influence on everyone," Becker said. In terms of fellow defender Rick van Drongelen, who had to be subbed off early yesterday with a muscle injury, Becker had positive news to share. "I don't think it's that bad and we are hoping he will be part of the line-up for the match on Monday." Injured attackers Aaron Hunt (hamstring) and Hee-chan Hwang (thigh) as well as Josha Vagnoman (knee) took part in a rehabilitation session with physical therapist Sebastian Capel on Wednesday. But, Becker said Hunt and Hwang will not take part in the match against Magdeburg, and it is unlikely they'll feature in next week's game against Köln. Hannes Wolf, who is also out sick, will prepare for the game against Magdeburg with the same players that he was able to call on for both matches in Bochum and Paderborn.
A look ahead: "Today we can continue to celebrate our quarterfinal victory, but tomorrow our focus shifts back to the league, where we are still in pursuit of promotion," Becker said. Currently, Hamburg sit in second place in the second division and will face FC Magdeburg on Monday night at home, with kick-off at 20:30 CEST. Magdeburg, who are currently in 16th place, are looking for their first win in five matches, after three ties and two losses. "What matters is if we're able to be successful against Magdeburg. We want to carry the excitement from yesterday's win with us. If we're able to do that and come away with another win it will have been a really good week for us," said Becker. The game against Magdeburg, who are facing relegation, will be a different story. "Magdeburg is trying to stay alive. That means we have to take a different approach to the match. But, enough about Magdeburg, let's talk about us. If we do our job properly, then we will win the match."