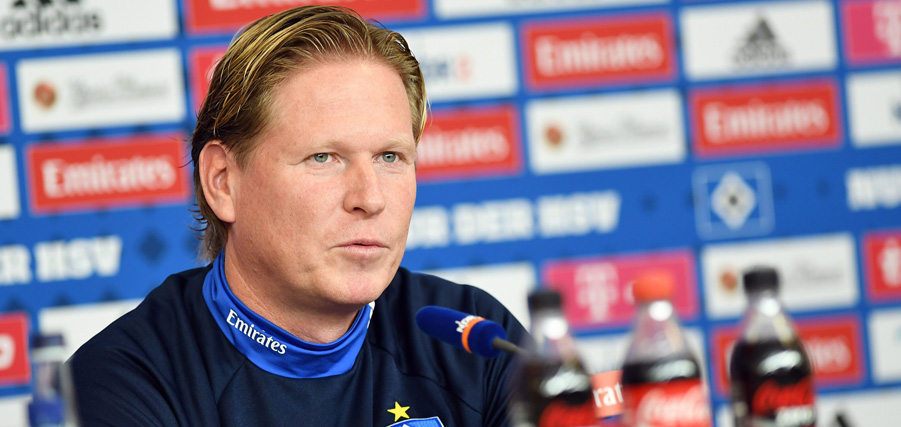 Press Conference
15.12.16
High hurdle to take in Mainz
The official pre-match press conference ahead of HSV's Bundesliga matchday 15 clash away to Mainz (7.12.16, 3.30 PM) was held at the Volksparkstadion on Thursday afternoon. During the gathering, HSV coach Markus Gisdol discussed the alternatives available to replace suspended first team regulars, the turbulent week the club has had at board level this week and of course Saturday's tough encounter.
Football took a back seat at HSV this week after the news broke on Sunday that chairman of the board Dietmar Beiersdorfer had been replaced at the helm by former Eintracht Frankfurt boss Heribert Bruchhagen. Football returned to the spotlight on Thursday (15.12) as Gisdol told the media: "I expect an intense game." According to Gisdol, Mainz have superior quality to recent Rothosen opposition and how keen his team is to extend their four game unbeaten run.
Markus Gisdol on
…team selection: René Adler and Cleber are not in the squad for Saturday's game. I am optimistic with regard to Nicolai Müller and Douglas Santos, who picked up slight knocks during training yesterday. We don't think that it is anything too serious and hope that they will be able to fully train this afternoon. Lewis Holtby is suspended and Bobby Wood, Luca Waldschmidt and Aaron Hunt have all trained well this week and are alternatives to take his place. It will be a tough decision to make.
…Mainz: My colleague Martin Schmitt has done a great job over past years there. He has formed a team who are strong at pressing and are especially aggressive at home. We have a high hurdle to take in Mainz. They have recently had their backs put against the wall after results have not quite gone as hoped for them.
…expectations from Mainz game: I expect an intense game. Like against Darmstadt and Augsburg, there will be a lot of long balls played and a lot of aggression regarding winning second ball. They try to tempt you out in order to hit you with surprise attacks. They have superior quality to our recent opponents. We are warned and must be wary. But we want to use the strengths we have produced in recent matches. We will give our all in an effort to gert the best possible result.
…working during turbulent times: We have done well over recent weeks focusing on the team and playing football. We are on a good path. I have always said that the team has made good progress regarding team unity. I hope that it spills over into the rst of the club. I have huge respect for Heribert Bruchhagen – a man with a wealth of experience. Of course I hope that he can bring in the calmness we need right now.
…working with Dietmar Beiersdorfer: I would like to state that the work done with Dietmar Beiersdorfer is still very good. It makes sense to carry it on in our current situation. The ideas we have were not thought out overnight, but put together weeks ago. Didi began it all. I do not think it would be smart to give it to somebody else. Didi has HSV at heart, enjoys massive respect in and around the club and is certainly one of us.
…his own role: I am first and foremost a coach and I need all of my strength to work with the team. We have started something here and we want to carry on down that path. I will continue to need all of my strength to do my job. With regard to appointing a sport director, I consider it a huge compliment that I was asked my opinion. That decision though is down to others.