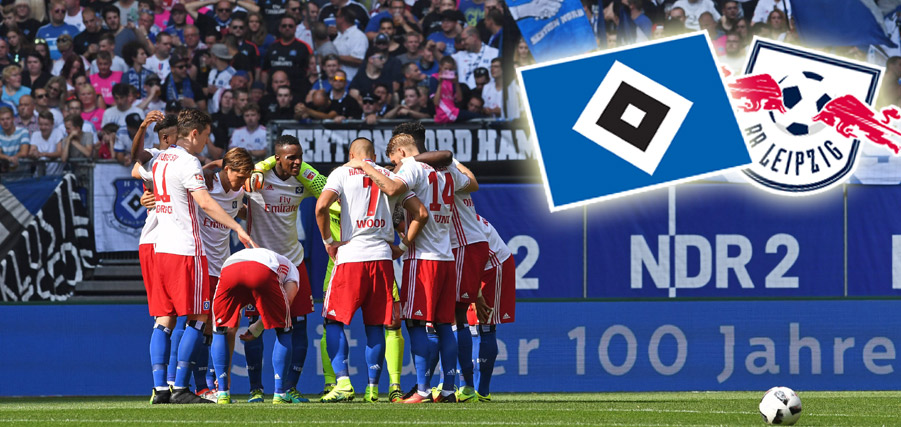 Historic meeting
On Saturday afternoon, the only club never to have been relegated from the Bundesliga host a side in the top flight for the first ever time, as HSV take on newly-promoted RB Leipzig at the Volksparkstadion on Bundesliga matchday 3. Two different worlds, but as usual, it is all about football and three crucial points.
When HSV kick off against RB Leipzig on Saturday afternoon (17.09.16, 3.30 PM), for many fans it will be anything but just another Bundesliga game. On the one hand there is the only club never to have been relegated from the German top flight who celebrate 129 years since their founding. The Rothosen have a proud record of having played 1,800 Bundesliga games, their letter head full of titles from their illustrious past and a museum with an impressive display of silverware.
Interesting sporting comparison

The "new kids on the block" Leipzig on the other hand play only their third ever top flight game on Saturday. They were formed on May 19th 2009 from the now former club known as SSV Markranstädt in the fifth east German league: Dietrich Mateschitz – co-founder of the Red Bull energy drink company was quoted in the newly-released annual Red Bull magazine as saying: "In 500 years' time the other Bundesliga clubs will be 600 years old and we will be 500."
The company's involvement is controversial among many football fans to say the least. As is well known, the majority of clubs in the country are run by the infamous 50 + 1 principal, which gives fans 51% control of those clubs. HSV fans could also vent their feelings against the so-called "soft drinks club" on Saturday. We of course hope that things will be held to a minimum on that front and we will say nothing further on the matter at this time. The game promises to be interesting either way.
"HSV very quick up front"
Looking at it from a sporting angle alone, the game promises to be a fascinating encounter. Bruno Labbadia told the media in Hamburg this week: "We look forward to an exciting game with lots of power and can't wait to get stuck in." He meant of course that Leipzig visit Hamburg so far unbeaten this season which will be a massive confidence boost. They beat Borussia Dortmund 1-0 in their first Bundesliga home game last weekend. There were impressive flashes of their class during that game. Leipzig have a young side with an average age of only 23,5 years. With their solid foundation, strong pressing ability and lightning quick front men they must not be underestimated.
The Rothosen must prepare for all of that while at the same time focus on their own strengths. RB head coach Ralph Hasenhüttl knows: "Dortmund are one of the most skilful teams in the land, while HSV have different qualities. They are a tough team who try to prevent their opponents from playing their game and have lightning quick men up front." So the respect is mutual.
Wood knows all about Leipzig
Labbadia has a couple of key players at his disposal who missed the 1-3 defeat in Leverkusen last time out, with skipper Johan Djourou (strain) and Gideon Jung (tear in hip) back in the squad. Two men who can increase stability at the back. Up front he is spoilt for choice. Apart from lightning quick wide men Filip Kostic (Timo Werner: "we will have to have an eye on him" and Nicolai Müller, Leipzig must also construct a plan to smother the threat posed by summer signing Bobby Wood. The USA striker who joined the Rothosen from division two club 1860 Munich during the summer transfer window has scored twice in as many games so far. Wood will be in illustrious company should ha score on Saturday. Club legend Charly Dörfel (1963 – 4 games / 7 goals), Benjamin Lauth (2004/05 – 3/3) and Boubacar Sanogo (2006, 3/3) are the men who have so far scored in their first three games since joining the club.
Wood himself played against Leipzig for three of his former clubs with differing fortunes – losing 0-3 with 1860 followed by Erzgebirge Aue (2-0) und Union Berlin (1-1). HSV's home record against newly-promoted sides is an impressive one. Leipzig are the 54th newly-promoted side to visit the Volksparkstadion where HSV have recorded 32 wins, 14 draws and only 7 defeats – an average of 2,1 points per game. Legendary Bundesliga coach Alfred "Adi" Preißler said many years ago: "All theory is a grey zone, the most important thing is what happens on the pitch." How true. Now bring on what promises to be an exciting 90 minutes of top flight football!
HSV (from): Tor: Adler, Mathenia; Feld: Cleber, Djourou, Douglas, Ekdal, Gregoritsch, Halilovic, Holtby, Hunt, Jung, Kostic, Lasogga, Müller, Ostrzolek, Sakai, Spahic, Waldschmidt, Wood
RB Leipzig: Gulacsi - Schmitz, Orban, Compper, Halstenberg - Ilsanker, Demme - D. Kaiser, Sabitzer - Ti. Werner - Y. Poulsen
Referee: Dr. Robert Kampka (Mainz)