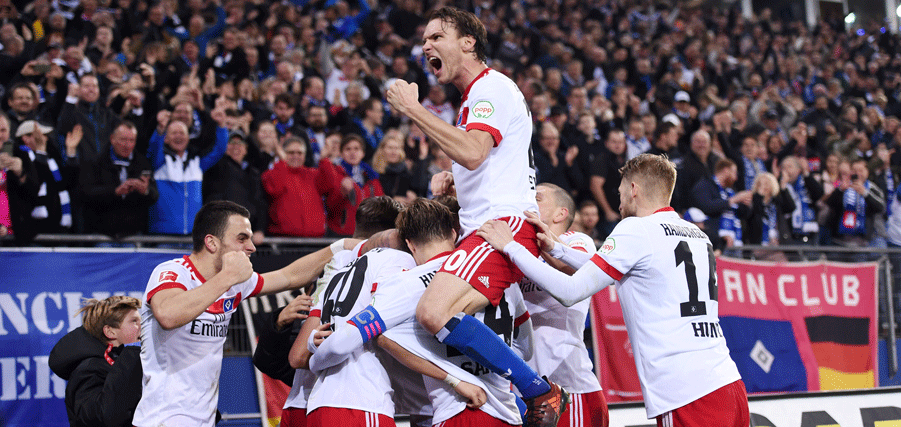 HSV celebrate 500th home win
Saturday saw HSV claim a 3-1 home win over VfB Stuttgart, and with it a true piece of club history.
The 'Rothosen' had been waiting to reach the coveted milestone since the end of Matchday 1, when they defeated FC Augsburg 1-0 to record their 499th Bundesliga victory in the Volksparkstadion. But all that came to an end on the weekend in a perfect wave of frenetic celebration as 55,000 people saw the team claim three points and their first league win in eight. The fact that the scoring was rounded off by home-grown talent Fiete Arp made the whole achievement feel extra special.
HSV.de will now take you on a trip down memory lane, throwing back to our first home win the Bundesliga, before looking back at every 100th success to have been achieved in recent years.
#1 | 1st home game | 31.08.1963 | HSV – 1. FC Saarbrücken | 4-2 (1-2)
The Bundesliga began on August 24th 1963. As one of its founding members, and in the top flight since its inception, HSV were in the league from the off, and played their first game away to Preußen Münster. That ended 1-1. The Rothosen had to wait until matchday two to pick up their first win (at that time, teams only won two points for a win) when Martin Wilke's team hosted 1. FC Saarbrücken at the Volkspark. These two had recent history, too, when HSV defeated the Saarland side 6-2 on aggregate to win the final of the German Championship in 1961. It was a different scoreline, but the same result in 1963, as HSV triumphed 4-2 in an entertaining encounter.
It hadn't started according to plan for the Rothosen, however. The guests took an early 2-0 lead thanks to a Dieter Krafcyk brace, but HSV rallied in front of a 32,000 crowd. A hat-trick from Gert "Charly" Dörfel set HSV on course for the comeback, and "Uns" Uwe Seeler added another to give the final score an extra varnish. The rest of the starting XI on the day were Horst Schnoor, Willi Giesemann, Gerhard Krug, Jürgen Kurbjuhn, Hubert Stapelfeldt, Ernst Kreuz, Dieter Seeler, Peter Wulf and Fritz Boyens.
---
#100 | 184th home game | 30.08.1974 | HSV – Offenbach Kickers | 1-0 (0-0)
HSV had to wait 183 games and around 11 years for the 100th home win. It came on matchday two of the 1974/75 season in front of 48,000 fans. It was an edgy game against Offenbach Kickers; the home fans had to wait until the final minute of normal time for their side to break the deadlock in what turned out to be the winner. Horst Bertl was the hero on the night, coming on for Klaus Zaczyk in the 61st minute to make the difference after Offenbach's Peter Enders had been shown a red card.
---
#200 | 324th home game | 23.10.1982 | HSV – Eintracht Braunschweig | 4-0 (2-0)
The 200th home win came only eight years and 140 home games later. There was no suspense this time, as HSV brushed past their northern rivals, Braunschweig. Ditmar Jakobs and Jürgen Milewski put the Rothosen on their way in the first half, before Manfred Kaltz and Horst Hrubesch completed the victory parade after the break. The 200th home win came in the club's golden period. HSV won the title in the 1981/82 season and remained unbeaten in 36 games between January 16th 1982 and January 29th 1983.
---
#300 | 476th home game | 31.08.1991 | HSV – Eintracht Frankfurt | 2-1 (0-0)
Gerd-Volker Schock was the HSV head coach when the Rothosen picked up home win number 300. The victory against Frankfurt came nine years and 152 home games after the 200th. Armin Eck was the star of the day. He scored two goals within five minutes to put his club level on points (9-5) with Eintracht. Hansa Rostock were leading the league then, in the first season bringing together teams from east and west.
---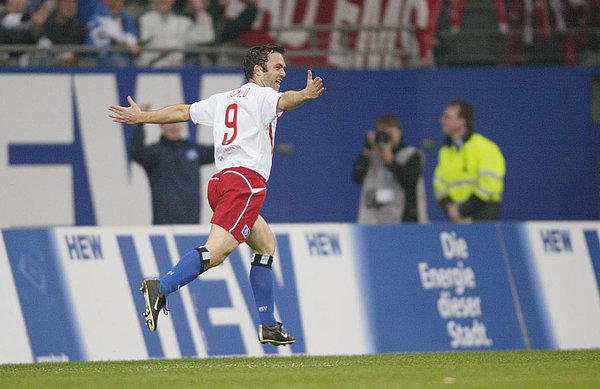 #400 | 691st home game | 28.03.2004 | HSV – 1. FC Kaiserslautern | 3-2 (1-0)
We last celebrated a centenary of home wins on March 28th 2004, 13-and-a-half years ago. The 400th was a gripping five-goal affair against Kaiserslautern. HSV had nabbed an early cushion through Christian Rahn's free-kick and then Bernardo Romeo's eleventh of the season. Miroslav Klose got one back for FCK before Rahn restored the two-goal advantage with twenty minutes to go. Marian Hristov ensured the final minutes of the game were very tense, but HSV held on to move up to eighth in the table after 26 games.