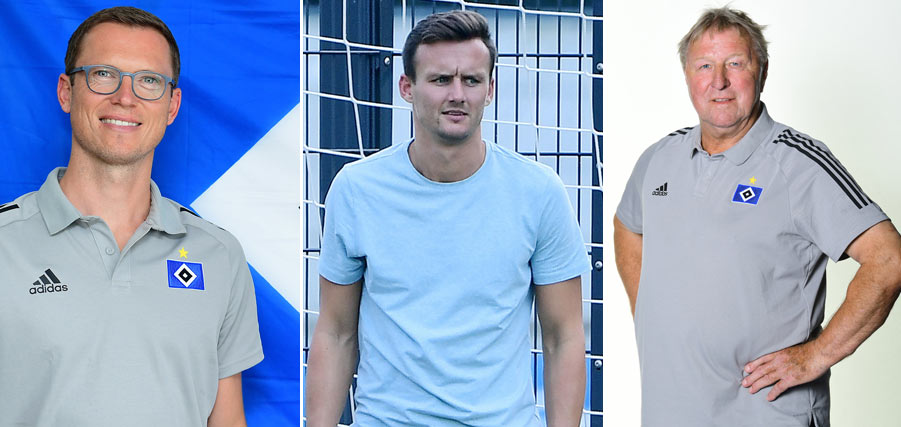 HSV extends contracts with sporting trio
The trio have committed their future to the club in the coming years, as HSV aims for continuity in the sporting hierarchy.
Shortly before the end of 2020, Hamburger SV reinforces its intention to aim for continuity in the sporting hierarchy, extending the contracts of Scouting Head Claus Costa (36), Academy Director Horst Hrubesch (69) and sporting director Michael Mutzel (41). "All three have contributed decisively to ensure that we press ahead with the development process that we have outlined for the first team as well as the academy. We hope that the trio continue to provide decisive impulses in the future as well, and are happy that we profit from continuity in the areas of scouting, squad planning and the academy," Head of Sport Jonas Boldt added to the contract extensions.
Michael Mutzel took the role of sporting director at HSV on the 1st April 2019. After the change in executive board members, Mutzel retained his job and is now in his second season in the role. The former Bundesliga pro (Frankfurt, Stuttgart, Karlsruhe, Wolfsburg), was previously Head of Scouting at TSG Hoffenheim (Feb 2016 – Apr 2019), having been the club's youth co-ordinator previously (2012-2014).
Claus Costa had his first day at HSV at the end of August 2019, leading the Rothosen's scouting department from that point on. The 36-year-old had already been successful in the same role with Jonas Boldt during their time at Bayer Leverkusen, after finishing his professional career at Viktoria Köln. Costa's career included 55 games in the 2. Bundesliga and 92 in the third tier, for the likes of VfL Bochum, Fortuna Düsseldorf and VfL Osnabrück.
Club legend Horst Hrubesch was the last of the trio to take up a role at HSV, re-joining the club as Academy Director on the 31st July 2020. In the most successful period in the club's history, Hrubesch made 159 appearances for the Rothosen, scoring 96 goals. From 2000 to 2016, the 69-year-old was involved in the German national team's youth set-up in various coaching roles and amongst other titles won the European championship with the under-21 team in 2009.
In the coming years the trio want to press on with the work that they have already begun, maximising the club's potential in the academy, transfers and squad planning.