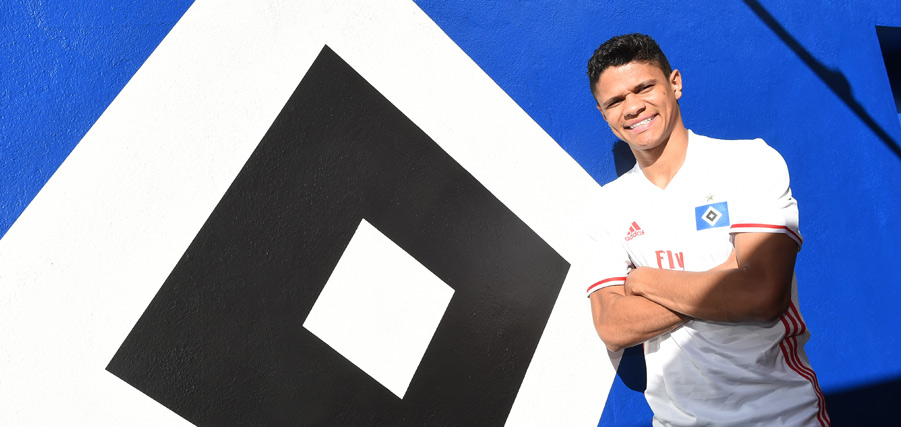 "I am a Bundesliga fan"
In an exclusive interview with HSV.de, latest signing Douglas discusses his move to HSV, winning a gold medal at the recent Olympic games in his Brazilian homeland and his goals in the Bundesliga.
The sun beats down and HSV new signing Douglas Santos is broadly smiling as he looks over the Volksparkstadion in Hamburg. The 22 year old Brazilian left back and recent Olympic gold medal winner had just put pen to paper on a deal designed to keep him with the Rothosen until June 30 2021. We caught up with the club's final signing in the summer transfer window to ask him a few questions. Read here what he told us.
Douglas Santos, welcome to Hamburg. Firstly, congratulations on winning a gold medal in Rio. We thought you might still be wearing it…
Santos (laughs): I am really glad that our team won gold. It was a great tournament and an indescribable feeling . Our people are very proud of us. The most important thing which gave a lot back to our people was beating Germany in the final.
And you are moving to Europe for the second time, after your moves to Spain and Italy as a 19 year old. How do you feel about coming to Germany?
Santos: Of course everything in Germany will be new to me. But my past experiences might be useful for me. I am very happy to have made this move to Hamburg. I have been warmly welcomed by the club and now look forward to the team, the stadium and of course the fans. I hope to have a great time here.
What do you think of the Bundesliga?
Santos: I followed it in Brazil. I am a huge fan and thank God that I am able to be a part of it. I also thank my family as well as my old club Atletico Mineiro, who all stood by me during difficult times.
What are your first goals?
Santos: I must quickly get to know the team and coaching staff. I want to help the team win as many games as possible. Obviously I will have to get used to Bundesliga football.
Surely your compatriot Cleber can be of help to you…
Santos: He probably will. Until now everyone has been nice and helpful. Of course you are glad to have a fellow-Brazilian in the team. We haven't had any contact yet but will meet for the first time tomorrow.
Good luck at HSV.