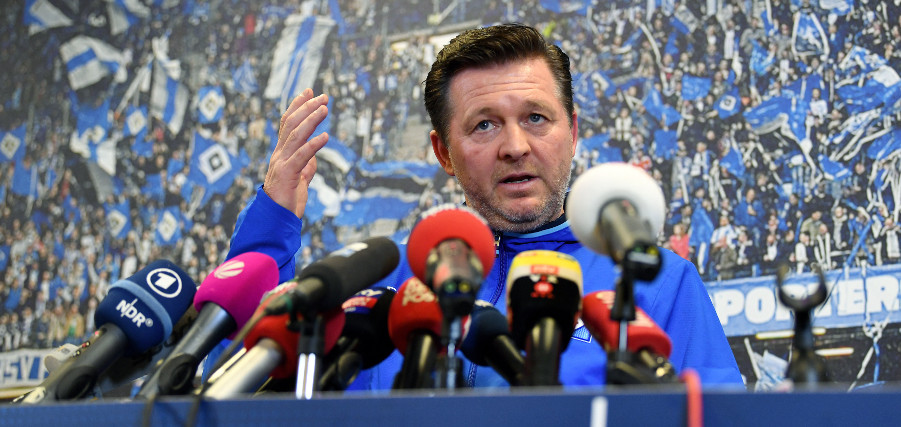 press conference
15.03.18
"I see a huge chance in this game"
NEW HEAD COACH CHRISTIAN TITZ GAVE A PERSONELL UPDATE AND SPOKE OF HIS EXPECTATIONS AHEAD OF HIS FIRST PRE-MATCH PRESS CONFERENCE AHEAD OF SATURDAY'S HOME MATCH AGAINST HERTHA BSC.
HSV host Hertha BSC on Saturday evening (17th March, 15:30 CET) on matchday 27 in the Bundesliga. Christian Titz will take charge of his first match in the Volksparkstadion dugout. In his first press conference, Titz spoke of positive impressions and looks confidently ahead to the weekend's match. "I'm really excited to arrive at the stadium on Saturday and play against Hertha."
We round up the 46-year-old's thoughts on…

…his first impressions from training: I've already taken five training sessions now. I have a good impression of the team. The impact of promoting some of the youth players has worked as planned. Even the first team players have embraced that and showed willingness to perform. We go into the match feeling good. I'm very confident.
…the size of the training group: We wanted, among other things, a different impulse, different characters - on the pitch and in the dressing room. There are new relationships forming and competition for places. Everyone has thrown themselves into it. Every player, whether he is in the squad or not, will continue to train with us. Some players will get match practice with the U19s/U21s. Momo Kwarteng, Mohamed Gouaida, Arianit Ferati, Josha Vagnoman and Marco Drawz will all gain match practice with the youth teams this weekend.
… the next game: We're working hard to prepare the team for Saturday. I have the impression that the team believes that we will go onto the pitch on Saturday and give everything we have to secure the win. Football can also be decided in the head. We know that mistakes happen, despite that we want to be bold. I see this match as a huge chance.
...the fan's support: It's very important that the fans continue to show us such great support, as they have done in difficult times in recent years. It makes a huge difference for the players, especially those without much experience.
…the expectations ahead of his debut: It doesn't make a difference to me, at the end of the day you need to win these games. Obviously I've taken over the team in a very critical situation. One big difference to my previous roles is the number of spectators.