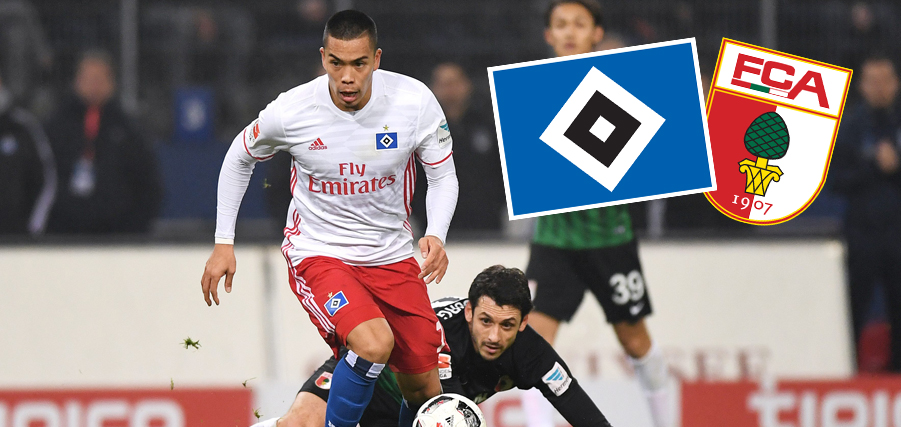 Pre-Match Report
18.08.17
Into the 55th top flight season with huge anticipation
On Saturday (19.08) at 3.30 PM HSV begin the 2017/18 season with a home game against FC Augsburg at the Volksparkstadion. As always the anticipation is huge in and around the club with everyone keen to make a good start in front of their own fans.
12.451.953 spectators passed through Bundesliga turnstiles last season. The season began on Friday night at the sold out Allianz-Arena in Munich where a capacity crowd of 75,000 saw the champions beat Bayer Leverkusen 3-1, The game was broadcast to over 200 countries underlining the popularity of Germany's top flight. It was the start of the 55th Bundesliga season and newly-promoted Duo Hannover 96 and VfB Stuttgart make this season one of the more experienced regarding teams with the 18 top flight clubs boasting an average of 34,2 years in the top flight.
Rothosen want home advantage to count
As everyone knows HSV are the only club in the Bundesliga never to be relegated since its inception in 1963. Their superb Volkparkstadion holds 57,000 and last season boasted an average gate of 52,320 which is a whopping 90 %. After making the worst ever start to a season the fans became more important as the Rothosen mounted a campaign to catch the teams above them. Of their total of 38 points 28 were taken at home. During the second half of the season they won six, drew two and only lost once.
Not even the awful 1-3 DFB Cup defeat at third division Osnabrück and the ensuing chaos was enough to dampen the anticipation of HSV coach Markus Gisdol ahead of the season-opening game. He pointed out at the official pre-match press conference on Thursday: "The past plays no role at 3.30 on Saturday. We will determine what happens from then on and that is how we must approach the game." Gisdol is glad to welcome back key duo Filip Kostic and Albin Ekdal from injury and can pick his side from a fully fit squad with the exception of injured new signing Bjarne Thoelke. His players are keen to get the fans on their side like last season. US striker Bobby Wood pointed out: "Battle hard is the name of the game. If we fight hard and show that we leave everything on the pitch we can get the fans on our side. They gave us wonderful support home and away last season."
Banish season-opening "curse"
The visitors from south western Bavaria have something of a curse they are keen to shake off. In their six seasons in the top flight they have suffered five defeats and managed only one draw in their matchday one encounters – the worst record of a club with that level of experience in the Bundesliga. Their coach Manuel Baum isn't unduly worried by those dismal stats. He said before leaving for Hamburg: "I don't care what kind of stats others use to talk about FC Augsburg."
Austrian former HSV midfielder Michael Gregoritsch (55 games 10 goals) left Hamburg for Augsburg at the end of last season and of course would like nothing more than to put one over on his former club. He said this week: "We want to make the people who have got us down as relegation certainties eat their words. We want to surprise people this season. " Like HSV Augsburg crashed out of the cup against lower league opposition, going down 0-2 at third division outfit FC Magdeburg. During the close season Augsburg striker Raul Bobadilla rejoined his former club Borussia Mönchengladbach, while club skipper Paul Verhaegh signed for VfL Wolfsburg. The Dutchman in particular left a void yet to be filled.