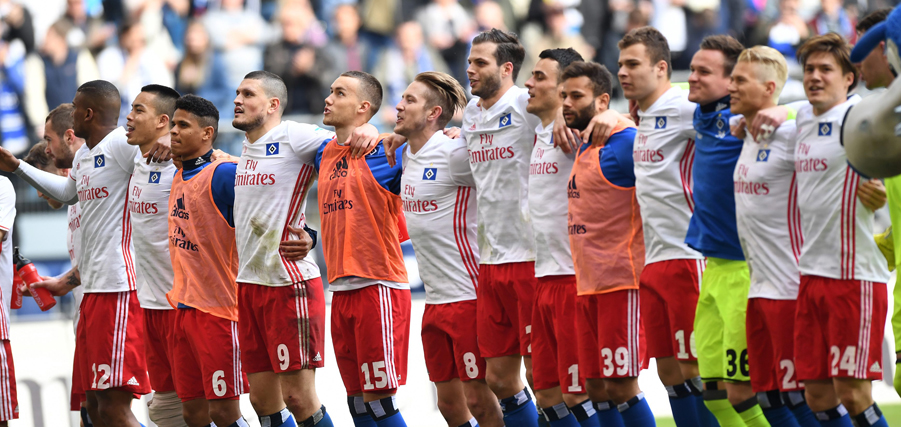 Post match reaction
08.04.17
"It feels really great!"
The Rothosen deservedly beat top three side TSG Hoffenheim 2-1 at the Volksparkstadion in Hamburg on Saturday afternoon. This is what the protagonists had to say after the game.
HSV needed and produced one of their best performances of the season to beat top three side and last week's Bayern conquerors TSG Hoffenheim in front of another massive crowd at the Volksparkstadion in Hamburg on Saturday afternoon. Attacking midfielder Aaron Hunt was Hamburg's man of the hour scoring both of his side's goals (25. and 75.). The true match winner though was the team and the way they defended as a unit and sometimes pressed TSG at the edge of their own penalty area. It was another victory of wills. Team spirit, grit, determination and stamina saw the Rothosen through to three vital points in their battle against relegation. HSV.de collected the following post-match reaction.
Aaron Hunt: It feels really great. We got into the game from the opening whistle showed aggression and fully deserved to win. My free kick was a spontaneous decision, although I got a little signal from Papa who was near the wall and ducked. That went well. We are a fit team but a lot of things are to do with the mind. There are always moments in games where you think you can't go any further. Compensating for missing players is a strength of ours. We can do that because we function as a team. I can't wait for the derby in Bremen next week. I have had to wait two and a half years to play there again.
Bobby Wood: We got into the game right away and did not their penalty get us down. We just kept up the pressure and won the game. We know what playing in the latter stages means, that it is about physical and mental strength and a team that never loses ist self belief. The goal I set up came from pure instince. I blindly found Aaron and it was great to see him slide the ball home.
Dennis Diekmeier: We are a real force here at home. We play with confidence and our fans celebrate every tackle. That is brilliant and always pushes us. We have to continue playing like this. It is derby time next week, I can't wait and neither can the other lads. We want to be fully there for that one!
Lewis Holtby: Wir haben auch heute wieder den Kampf angenommen. Jeder Spieler hat kapiert, dass es nur mit Kampf und Leidenschaft geht. Es geht nur über diese maximale Willenskraft. Ich habe immer gesagt, dass das unsere Grundtugenden sein müssen. Wir sind eine fitte Mannschaft, aber auch der Kopf ist entscheidend. Jeder ist mit 100 Prozent da und nur so geht´s. Für meinen Freund Rene tut es mir leid mit seinem Rippenbruch, aber Chris ist heute toll eingesprungen.
Christian Mathenia: You could see that the characters in our team play well together. It was amazing to see how the lads playing in front of me threw themselves into every ball. I got the news that I would be playing yesterday. I was also in goal in the first game against them earlier in the season – they are stories that only football writes. Every win does us good, especially right now. We want to take every possible point – including next week in Bremen.
Markus Gisdol: We played against a very strong side today. We had a lot of respect for their recent results. They play a clever game and use their operating space well. We knew that only full on pressing could help us and the way we defended right through the team. My team did a fantastic job of not allowing Hoffenheim to play their usual game. Every one of us knows that we can only succeed when operating as a unit. Whoever jumps in it works. That is why we deserved to win and this victory does us good.
Julian Nagelsmann (TSG coach): We never got into the game. We failed to follow tactical orders and put too little of our plan into practise, but still managed to score a goal. We deserved to lose here today. Of course I'm happy for Markus Gisdol but not so much for myself. Nothing went right for us and we failed to reach the emotional level HSV reached. The atmosphere here at the Volkspark is amazing. There is massive emotion here and it reaches everyone. Maybe that contributed to the win in the end.