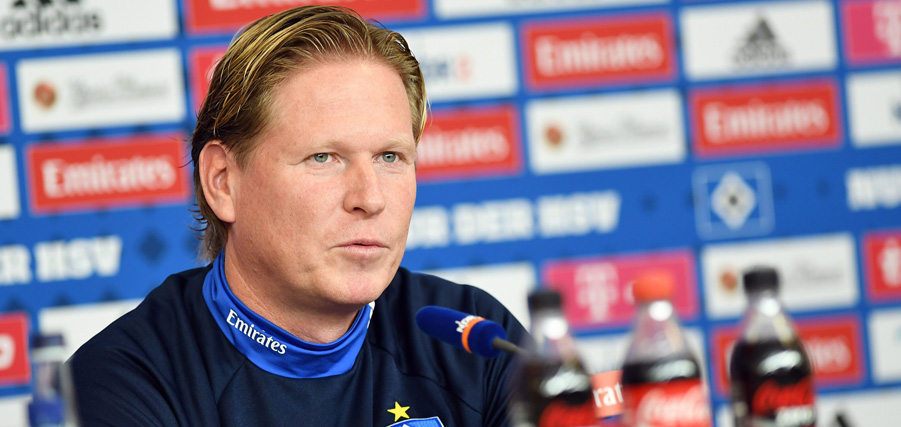 Press conference
18.05.17
"It is our job to start the fire!"
On Thursday morning (18.05) HSV boss Markus Gisdol faced the press ahead of the final game of the season at home to VfL Wolfsburg on Saturday afternoon (20.05.17, 3.30 PM). The coach discussed team matters, the two day stay in Rothenburg and a special pressure.
HSV head coach Markus Gisdol faced the media on Thursday morning (18.05) ahead of the short trip to Rothenburg, where he will prepare his men for one final push for top flight survival at a two day training camp. The 47 year old seemed very focused. When asked about what kind of opposition he expected on Saturday afternoon he answered: "Because of the special situation I won't answer any questions about the opposition. I will only say that we will be ready, focused and go into the game with clear heads." Gisdol granted a team wish by setting up a two day training camp at nearby Rothenburg as they did before the recent 0-0 home draw with Mainz. He hopes his men can focus better away from Hamburg. He expects a "great atmosphere" at the sold out Volksparkstadion in Hamburg where his team have lost only one of their last eleven games but pointed out: "It is our job to start the fire and through performing well create a great home atmosphere. Our fans have always been right behind us."
The HSV coach on …

... team news: The players carrying slight knocks from the last game all look likely to be available for Saturday. Pierre on the other hand has been ruled out with an adductor problem.
... two day trip to Rotenburg: It was important for us. We felt at home there recently and were glad to go there again. I think it is good to do such things two days before matchday. Here you do not have the chance to isolate yourself or indeed close to each other without being watched every step of the way. The team asked to come here to get away from the city. We wanted to spend time together even if it is only doing normal things and nothing special.
... the Volkspark atmosphere: I expect a great atmoshere and it will favour us. It is our job to start the fire and by performing well create a great home atmosphere. Our fans have always been right behind us and I am sure Saturday will be no different.
... dealing with pressure: We have to try to keep negative things away from us. Zhe performance in our last home game earned us this great chance in our final home game of the season. We know our capabilities at home and what a force we can be there. We will give our all while trying to ignore the negativity. We must not forget that in the end it is about a great game which we should be very much relishing.
... personal pressure: Every player and coach deals with it differently. Some need distraction while others look at match scenes. Everyone does their own thing. They are of course extraordinary moments for everyone involved. Personally I focus on the job at hand and try to banish negative thoughts because they only drain your energy. When they do get to me I try to think of things like solutions for situations during games or training. I also like to read or take walks. Everybody has his own secret recipe.
… the long journey to here: We have been in a really long chase and have not had normality in our situation for several weeks. We have been involved in matches where we simply had to win in order to cling onto the teams above us. We feel as if we have lost something in every game we have played. For the first time in an age, we finally have a game in which we can only win because nothing else can happen below us in the table. We have fought adversity on many occasions and have a final chance to save ourselves. We want to take that chance with the right blend of humility and gratitude.