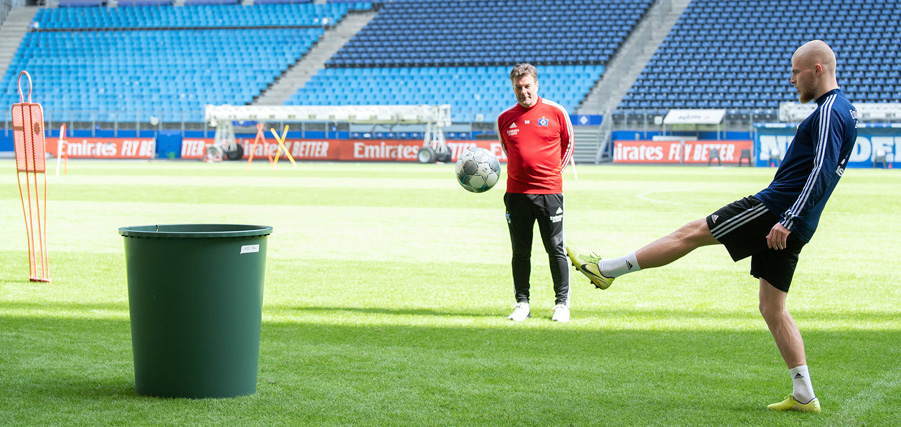 "It's great to be back out on the pitch"
During an InstaLive interview, centre-back Rick van Drongelen spoke about the current training situation, his most emotional HSV games and the most valuable jersey in his collection.
Rick van Drongelen and his teammates have been able to train since the 6th April, thanks to a special exemption from the health authorities in Hamburg. Whilst the Dutchman misses the intensity of a full-blooded training session, the team's vice-captain is happy to be out on the pitch again. During an InstaLive interview on the club's Instagram page, the 21-year-old gave a small insight into his current state of mind as well as a number of highlights of his career so far.
The vice-captain talked in detail about…
… the current training situation: Today we had an intense session with lots of sprints and shooting. It was hard, but at the moment it's great just to be back out on the pitch after the long period where we had to work on our fitness on our own. It was a bit strange always having to train alone, it felt like the summer or winter holidays. I had been missing the lads and training with the ball, and am happy that it's back now. For a defender like me, I'm missing the challenges in training, which I love to throw myself into, but the focus of training at the moment is on the technical side. I can and have to improve on this part of my game as well, so it's important I continue to work hard in training.
… games without spectators: This solution is unfortunately the only possibility in the current situation where we'll be able to finish the season. We are all hoping that football starts again soon.
… his most emotional game for HSV: That was in my first season at HSV, the 3-2 home win over Schalke. At that time, we were in a difficult position and Schalke were really strong that season. Despite all of that, we managed to win the game at the end thanks to a special goal from Aaron Hunt. I won't forget that game for a long time. My Bundesliga debut against Augsburg, the derby win last season and the DFB Pokal semi-final against Leipzig were also highlights so far.
… his idols as a child: My favourite club growing up was Ajax, where Wesley Sneijder and Rafael van der Vaart used to play. They were my idols, because I used to play in an attacking position when I was younger and also due to the fact they were so important to the Dutch national side back then.
… the most valuable shirt in his collection: That would be Arjen Robben's shirt, I swapped jerseys with him after the game against Bayern München. The shirt has a special place at my parent's house in the Netherlands. Arjen Robben is a legend not just in the Netherlands, but also in Germany and particularly for Bayern fans. For that reason, it was a particular honour to play against him.
… his qualities on the PlayStation: I don't play much FIFA – it's not really my favourite game on the PlayStation. I prefer 'Call of Duty Warzone', even though I haven't managed to win a game just yet. I don't really understand how Jairo [Samperio] and Bobby [Wood] have more victories than me. Ultimately, the stats don't lie though unfortunately, so the lads can be proud of their achievements. It's becoming tiresome how all the lads in the dressing room keep reminding me I haven't got a win yet. (laughs)