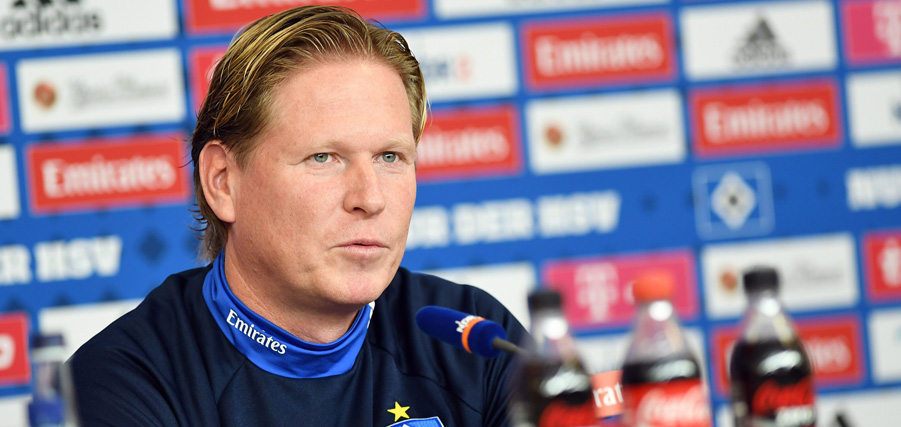 Press conference
14.04.17
"More than eleven on the pitch"
At the pre-match press conference ahead of the 106th derby clash between Werder Bremen and old rivals HSV (16. April, 3.30 PM), Rothosen coach Markus Gisdol discussed the bond between his team and the fans, team selection and his expectations from the game at the sold out Weserstadion in Bremen.
Fans are in for a real treat on Easter Sunday (16. April, 3.30 PM), as Werder Bremen and arch northern rivals HSV lock horns for crucial points at the sold out Weserstadion in Bremen. The first meeting between the two sides earflier in the season ended in a 2-2 draw at the packed Volksparkstadion in Hamburg. Things have changed for both clubs since the game played between two sides in the relegation zone in November last year. Gisdol's side like their Bremen hosts have fought hard, collected vital points and have both managed to build a delicate two point cushion over the dreaded drop zone. Nobody is resting on any laurels though: "We will not go out and play in a care free manner. We want to continue playing the way we have in recent games. We expect a storm to come at us in Bremen", explained Gisdol at the press conference on Friday (14.04). Because of what happened in Dortmund on Tuesday night, Gisdol refrained from using any fighting talk.
The HSV coach on…
… the bond between the team and fans: Sometimes you have to hit rock bottom in order to create a spark between the team and fans. We were all scared before the winter break as nobody knew where we were going. We discovered that together we are strong – the team, everyone at the club and especially our fans. My team work hard for the fans who in turn respect out efforts. They can sense when we are performing well and when not. The amazing bond strengthened during the dark time we went through in previous months. That bond gives us strength and confidence. With our fans behind us we are more than just 11 on the pitch. That is a major plus for us and we want to continue giving our all for them.
… team news: Papadopoulos misses out through suspension, while Adler, Albin Ekdal and Nicolai Müller also ruled out through injury. Johan Djourou has yet to train with the team. With in being a painful groin problem it could take a further few days. Things are improving with Johan but it will be a tight run thing. Things for Gideon Jung on the other hand are going to plan and I am confident he can play on Sunday. Ashton Götz has been out with a bout of flu but will resume training today. Douglas missed training yesterday with a slight knock. Bobby Wood has a slight knee problem so we will have to see how today's training goes. Should they miss out we have adequate replacements who are more than capable of performing well in Bremen.
… the106th northern derby clash: We won't be playing in a care free manner. We want to play the kind of football we have recently played regardless of the opposition. It will be important for us to be determined in the tackle and defend well. We expect to face a real storm in Bremen. They have done well gathering recent points, the switch quickly and defend deep. Both teams have collected useful points lately and I think that will show on Sunday. It will be an exciting occasion both on and off the pitch.
… his experience with derbies: Derbys are always special moments. I can still clearly remember the games between Schalke and Dortmund and the reception our Schalke but got in Dortmund. It is all part of it. Everyone should cheer their team on but violence has no place in our game.
… what happened in Dortmund: We are of course all in shock and feel for the players coaches and staff. You don't just shake off such experiences. Of course it was a topic between a few of my players in our changing rooms. Lots of our lads are good mates with Dortmund players and of course were worried. I though it fitting because of the Dortmund situation that although we play a passionate northern derby on Sunday that I not do any so-called fighting talk. I hope for a fair football feast on Sunday.