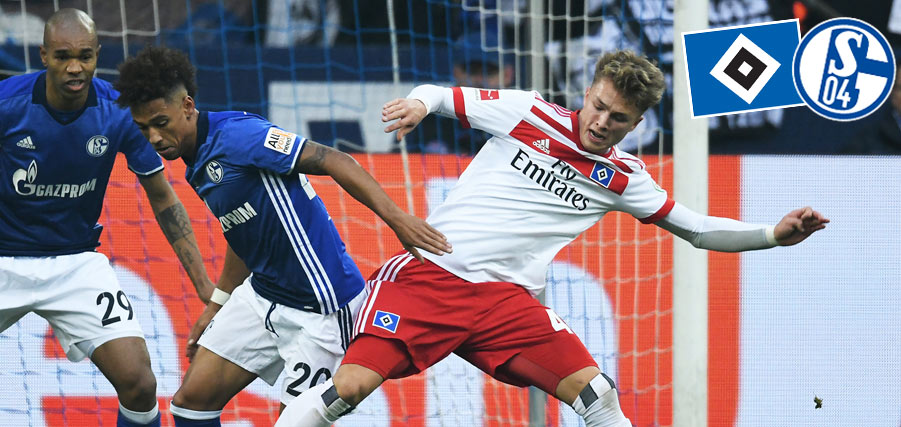 Pre match report
06.04.18
No holding back against Schalke
HSV are looking to finally change their fortunes with a win at home against Schalke 04 on Saturday evening and close the gap on their rivals. Christian Titz and his team are not afraid of playing with a bit more grit either, if it means securing all three points.
The scene is very much set ahead of the beginning of matchday 29. The only thing that will help HSV is a win, and start to make the impossible look slightly more possible. At the same time, the Rothosen will be hoping that the clubs around them at the bottom of the standings slip up. This weekend could be a big turning point for Hamburger SV. Two of their nearest competitors, 1. FC Köln and FSV Mainz 05, face off against each other this weekend and the result could have a huge impact on HSV's prospects of a further season in the top flight. After the Rothosen couldn't quite secure a victory last weekend despite another good performance, three points have to finally come in today's game against Schalke.
Papa hosts a team dinner
If you look at the Bundesliga standings ahead of Saturday evening's clash, you'll see that it is a game between the second placed and the last placed team in the league. But it's much more than that. This will be the 100th time that Schalke and Hamburg have played each other in the Bundesliga - an impressive feat. It's not just the occasion that HSV will be looking to propel them to their first win in 15 games. The tendency is for the game's to always start off well. Both in the game against Berlin as well as the game against Stuttgart, the Rothosen went 1-0 up, but couldn't see this lead through to the final whistle. Nevertheless, Christian Titz's influence on the team's play is getting more and more noticeable every week. The numbers back it up. HSV have made an average of 516 passes under their new coach with a success rate of 83.4 percent. That speaks to the good work that the coach is doing. But if you know Titz, then you'll also know that the 47-year-old is seldom satisfied and is always looking to go one step better.
He continued to implement his tactics further this week, and also tried out a few different personnel combinations. As Gideon Jung picked up his fifth yellow card of the season in the game against Stuttgart, Titz has been forced to find an alternative for the Under-21 international. Kyriakos Papadopoulos and Rick van Drongelen are two players that are options. Both returned to training this past week after recovering from their respective injuries. Aside from the training sessions on the pitches, there was also a special event hosted by Papadopoulos on the program this week. The Greece international invited his teammates, coaches and other members of staff to a dinner as an apology for the comments he made after the game against Hertha Berlin. It was a classy gesture that didn't just go down well with all involved. Papadopoulos also promised they would do it again if they managed to secure a win against Schalke.
Battle of attrition expected
Titz knows that the game on Saturday will not be an easy one and is expecting it to be a real battle of attrition. "Schalke are an exceptionally fit team that are disciplined in defence and maintain a high tempo for the whole game. We have to be able to react to what they do and act accordingly," said Titz. Schalke really are the team of the hour. The Royal Blues have won all six of their last six games, which matches a club record. As well as that, they haven't conceded in five of those encounters. Now, Domenico Tedesco's side look to make the record their own. Despite the difference in the standings though, Tedesco knows that his side cannot underestimate Hamburger SV. "They are still in with a shout for sure. They most definitely are not relegated yet. I'm expecting them to play well, as they have been already under their new coach. The game will be anything but easy."
It will be a challenge for Schalke above all else due to the support of the home fans on Saturday evening. "It will be a game that we'll need our fans to be a twelfth man for. It can be a huge advantage when you have them behind you as you go into the challenges," said the coach. With a fiery atmosphere and a passionate performance, the long awaited win could finally follow.