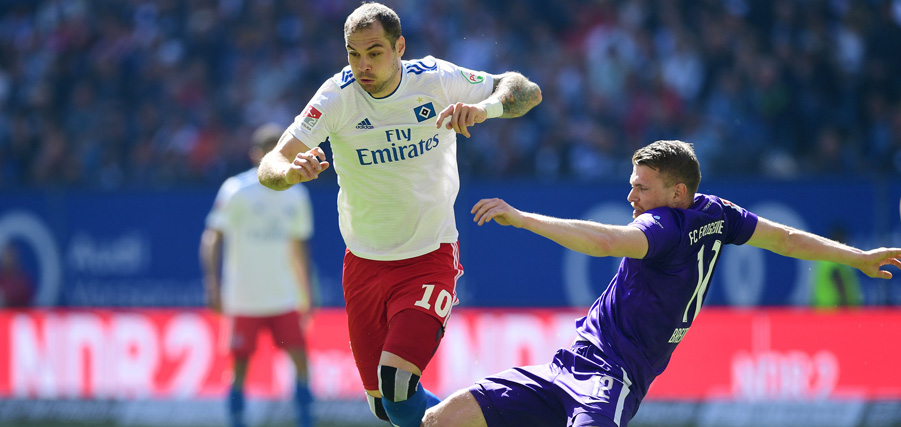 Post-match reactions
20.04.19
"Not pleased with the point"
HSV had to make do with one point in their home game against FC Erzgebirge Aue. The players looked understandably disappointed after the 1-1 result.
On Matchday 30 of the 2018/19 season, Hamburger SV drew 1-1 at home to FC Erzgebirge Aue. "In terms of mentality and commitment I can't fault the team," said Hannes Wolf after the game and shared the fans' disappointment with the point. Die Rothosen had 17 shots to Aue's 8, 61% of possession and a pass completion of 89%, but were unable to leave the pitch as victors, after Aue opened the scoring against the run of play towards the end of the first half. Manuel Wintzheimer's second goal of the season brought the scores level, but the 53rd minute strike turned out to be the final goal of the game. HSV.dehas the post-match reaction.
Pierre-Michel Lasogga: At this point after the game you always look at other teams to see if they have picked up points. But we have to simply just win our own games, and we haven't been doing that recently. However, it is still in our hands. At the moment, the main feeling is disappointment, because we spent so much time this week preparing for the game. It is typical of us to play really well against the top teams and then be unable to get the results that people are expecting against the smaller teams. I don't know what the reason for that is – whether we let our tempo slip or make the wrong decision. Usually they are minor details but we're not getting them right at the moment. However the game is over now – we can't change it anymore and have to move on. The next game is on Tuesday and for a lot of the guys, it is the biggest game of their careers. I am very happy to be in the DFB-Pokal semi-final and hope that we can show another side to our game as the underdogs. It will be a really nice game.
Aaron Hunt: We're doing it very difficult at home at the moment. If we had just won one of the past few home games, it would look a lot different. We didn't have enough clear scoring opportunities. In the second half we gave a lot and we were better than in the first half, but we lacked the clear chances. We didn't think about the Leipzig game at all before today's match – our focus on that starts tomorrow. We have a fantastic game ahead of us, with a win we would be going to Berlin. That is how we will take the semi-final. We will give it everything we've got.
Manuel Wintzheimer: We knew that it wouldn't be simple. Aue are a tricky team and they played very deep today, which was difficult to overcome. Naturally we wanted to win and give it everything, but unfortunately we only scored one goal. Therefore, I can't be fully pleased with my goal.
Ralf Becker: We only managed to draw a game that we called a final and wanted to win. It was a completely different story to the Magdeburg game. Today we were very dominant but then conceded a silly goal. In the second half, there were also moments where luck just wasn't on our side. We need to remain composed and keep working. We are disappointed, but we still have everything in our own hands. We have the best chance of achieving our goals when we remain calm and focused.
Hannes Wolf: We are not happy with the point. We actually did a lot of things right today and carried the game well in the final third. We also had a few good chances, but just simply lacked the finish. We lacked a little bit of luck with the Aaron Hunt freekick, and Lasogga's half-chance at the end. I don't feel that we were not there in terms of mentality or willingness today, so I can't blame the team.
Daniel Meyer: It was a complicated game for us. We pinpointed the amount of possession HSV had against Köln, so tried to limit them today but we often found ourselves chasing them. We worked very well as a team. The team wanted to turn it around after four defeats in a row. It wasn't a deserved draw, but they say that you earn your luck and it was an important point for us.