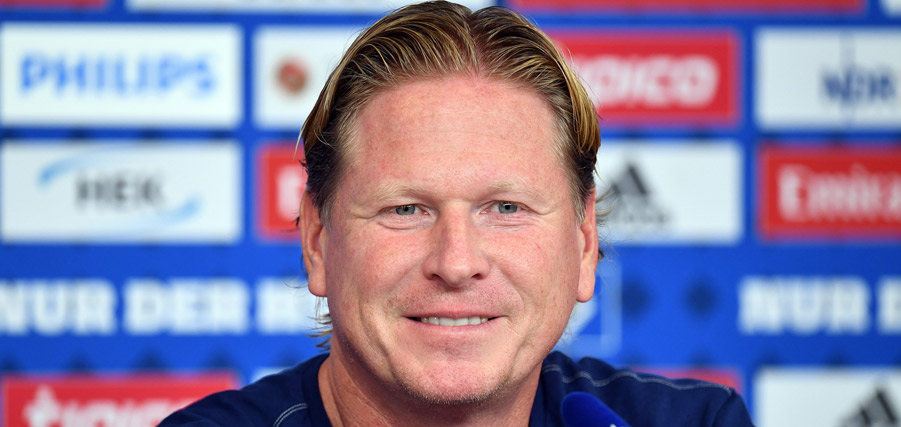 Press conference
17.08.17
"On Saturday at kick off time it is then up to us."
On Thursday (17.08) Markus Gisdol celebrated his 48th birthday. At the pre-match press conference ahead of Saturday's season-opening Bundesliga home game against FC Augsburg the HSV head coach told the media how much he is looking forward to the game and that he cannot relate to the negativity caused by comments made by club sponsor Klaus-Michael Kühne after the dismal DFB Cup round one defeat in Osnabrück.
The Bundesliga season begins for the Rothosen with a home game against Augsburg on Saturday afternoon (19.08.17, 3.30 PM). At the pre-match press conference at the Volksparkstadion in Hamburg on Thursday Gisdol was asked not only about the game but also how he was spending his 48th birthday. He explained: "My family is in the process of moving to join me in Hamburg so things are a bit up in the air right now. We had a nice family breakfast and I received a nice present from my wife. My little one is going to draw a picture for me." He was then asked what he would wish for if he had three wishes.
"If there was a wish that would do the whole of our club good it would be to get rid of the whole negativity and pessimism which affects the club so quickly and release more positive energy, confidence and happy anticipation. That is my dream and I think that takes care of those three wishes."
Markus Gisdol on...
… criticism by Klaus-Michael Kühne: I don't find it that bad and am surprised how much is being read into it. It is something we have discussed together. I understand his worry and his wishes for the club and I was just as angry after the cup defeat. I don't understand the whole drama followng his comments. We swap views on a regular basis. In fact we have spoken during the current transfer period. We involve him in those matters because of his huge support for the club. I do not sense any lack of support from him or the club.
… changes after cup exit: You have to brutally analyse such games and every player has to stand up and take the criticism for the way they individually performed. We would be in the wrong job if we just reverted to business as usual after such an experience. We have to learn lessons from the analysis. Regardless of who plays, you will see a different team on the pitch on Saturday.
… looking forward to Bundesliga start: If I had to motivate a player ahead of the opening game of the Bundesliga season he is the one who would not be playing. We performed badly in Osnabrück and have no intention of making any excuses but I cannot understand the whole negativity, it's unique in my opinion. On Saturday it is about the start of a new Bundesliga campaign no more and no less and it is all about that game. My anticipation is massive and I try to block out everything else and try to get my players to follow suit. On Saturday at kick off time the past plays no further role it is then up to us. That is what we have to focus on.
… Augsburg: We have beaten teams in the past who have come to Hamburg to defend. We showed how strong we can be at home on several occasions last season and that with almost the same team we have right now. That is why we are hoping to make home advantage pay and play to the strengths we displayed in those games. We have no idea how Augsburg will play especially at the very start of a season. That is why at such times you focus on your own team and not worry about what the opposition might or might not do.
… team the group: I am confident we will have them fully fit in time to include them in the team on Saturday.