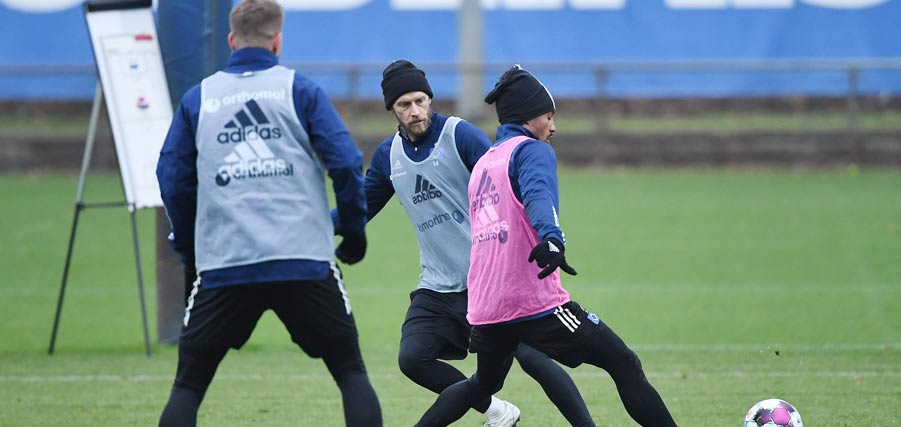 Options abound before traditional clash with Hannover
The HSV first team began the week before Hannover with a double shift at the Volkspark, Rick van Drongelen able to join team training for the first time since June.
Daniel Thioune is as disappointed as anyone about the results from the past few weeks, two defeats following two draws. Yet the 46-year-old is unruffled by the situation, wanting to turn things around with hard and honest work. "It's important that we don't do things just for the sake of it," the manager told the assembled press after the first of two training sessions on Wednesday, and presented the plethora of options at his disposal before the coming home game against Hannover 96 on Saturday (kick-off 1:00pm CET). "We have a large squad and every player can make their way into the starting eleven." During Wednesday's double shift, almost all of the squad were out on the Volkspark pitches, offering the HSV coaching staff a variety of tactical possibilities for the northern duel with Hannover.
Rick van Drongelen hasn't made his way into Thioune's thoughts just yet, but the Dutchman continues his very impressive progress of rehabilitation from the torn ACL which he suffered at the end of June, and was able to take part in training with the rest of the team for the first time this season on Wednesday. "In the coming weeks we want him to take part in our passing drills. But we will have to see how he adapts to the strain on his muscles," Thioune added. Third-choice 'keeper Tom Mickel will also only be able to support from the bench for the rest of 2020, having torn a muscle in his abdominal area and will be missing for several weeks. Aaron Hunt has seemingly recovered from the adductor problems that saw him miss the game in Heidenheim, and along with coach Thioune will look to steer HSV back into calmer waters with a positive result on Saturday.