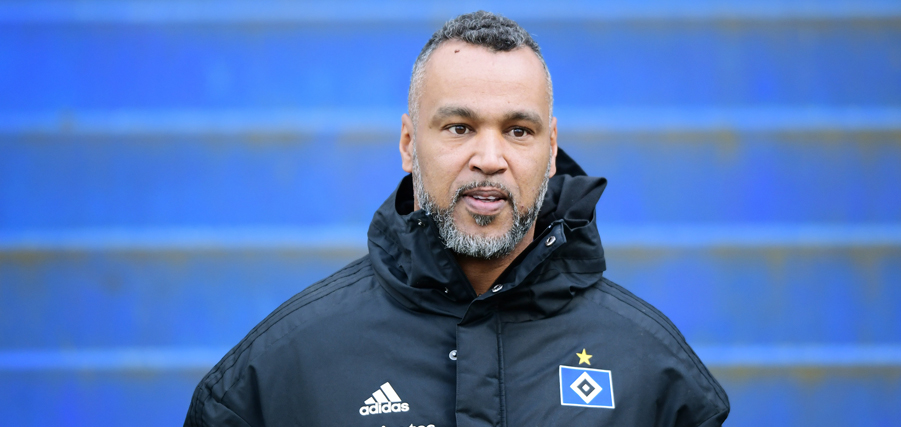 Patrick Esume reprises support role in HSV coaching set-up
The 46-year-old American football coach will re-join Dieter Hecking's team until the end of the season.
Patrick Esume, who is known in Germany for his work as an American football player and coach as well as a TV personality, will continue the work that he began in February during his time with the HSV coaching staff. "I'm happy to be able to support the coaching staff and squad again. The knowledge I was able to gain from and impart to the players and coaches during my first stint here whetted my appetite and was very successful", Esume concluded. Manager Dieter Hecking, who was central in bringing Esume onto his team, was also thrilled to count on Esume's knowledge once again. "Patrick Esume brings a new impulse to the team with his experiences in various sports. We exchanged a lot of ideas, had a lot of conversations and want to continue where we left off the first time around."
Esume will support the coaching staff until the end of the current season. "We are using the fact that Patrick has time at the moment and wants to benefit from working with us, meaning that he can gain experience in what is a very unusual situation," said Head of Sport Jonas Boldt.
Successful manager with roots in Hamburg
The idea of working with Esume came from Hecking and Boldt, with the HSV Head of Sport getting to know 'Coach Esume', as he is known, during his time at Bayer Leverkusen. The pair stayed in contact and agreed at the start of the year that Esume would shadow Hecking at some part during the rest of the season. Born in the Hamburg suburb of Eimsbüttel, the sport-mad Esume played for various American football teams in Hamburg in the 90s, before going on to greater success as a manager, collecting the German Superbowl, World Bowl and European championship with France. However, the 46-year-old has always been a keen football fan, playing at local clubs SC Union 03 and ETSV Altona Eidelstedt before settling on the American version of the game.