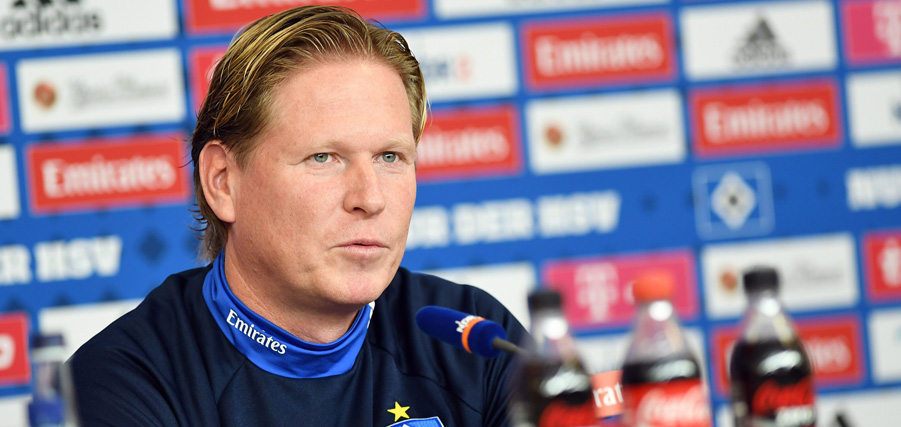 Press-Conference
30.03.17
"We want to use this upward tendency to add to our points tally"
At the official pre-match press conference ahead of HSV's matchday 26 home clash with Cologne (Köln), Rothosen head coach Markus Gisdol discussed selection matters, the end of season run in and Cologne's dangerous top scorer Anthony Modeste.
The Bundesliga takes centre stage again this weekend following the international break. Matchday 26 sees the Rothosen host Cologne on Saturday afternoon (01.04.17, 3.30 PM) at the sold out Volksparkstadion (57,000) in Hamburg. It is the third sell out crowd at the home of HSV this season. The other sell outs were against Bayern and Dortmund: "It is always great walking out into the stadium and feeling the amazing support of our fans", Gisdol told the press on Thursday afternoon (30.03). The Rothosen are currently enjoying a seven game unbeaten home run and are keen to extend the run against Cologne on Saturday. One thing is for sure: all eyes will be on Cologne's free scoring striker Anthony Modeste who leads the Bundesliga top scorer list with 23 strikes to his name.
Gisdol on…
... team selection: We had a few injuries going into the international break, but used the time wisely. It looks like with the exception of Aaron Hunt that we will have everyone available for the squad for Saturday. There are slight question marks over international duo Albin Ekdal and Gotoku Sakai, who have only just returned from international duty. It is nice to have two full days to work with the squad and with internationals who enjoyed success on their travels.
... sold out Volkspark: We have great attendance figures in Hamburg and have always said how wonderful the atmosphere is. It is a great feeling walking into the stadium. The team and fans are bouncing off each other at the moment. It is great to have a complete sell out. The stage id set for a great game and we want to continue our success at home.
... season run in: We deliberately took time to catch our breath at the start of the international break. We began preparing for Cologne at the start of this week. We will discuss the phase we are facing with the players today. We are the team who have managed to put pressure on the teams above us in the table by collecting points in recent games. We want to use this upward tendency to add to our points tally. It is vital that we only focus on the next game and not look too far ahead.
... possible advantages of cup victory over Cologne: After losing our first league meeting, the cup game has shown that we can beat Cologne. To do that though we need to have a very good day like we had in the cup as we beat them. We performed well that day. Cologne are a very good side and are not where they are in the table by coincidence. Cologne also have injury problems but every team goes through such phases in a season. We must not make the mistake of thinking that because of it things will be easier for us.
... Cologne dander man Anthony Modeste: It is always tough to stop a striker when he is on such a good run. I had Anthony for two years in Hoffenheim after we signed him from Bastia. He is a striker with unusual qualities who has come on leaps and bounds and is currently ice cold in front of goal. He is having a superb season. But Cologne are not only about Modeste even though they have modelled their game on him. Cologne know how to perfectly bring him into play so we must prevent those passes from reaching him and not tackle him when he already has the ball.
... working with Jens Todt: We liked each other from the off and found out that similar things make us both tick which is a very good basis. We speak daily and often find ourselves wantingto address the same topics. It is nice having such a partner by your side.